DigiLocker India Portal – Guide on How to Store Documents in Digital Locker
DigiLocker or Digital Locker is a new service introduced by the Government of India that is gaining much attention and praise among number of people in India. It is one of the programs under Digital India initiative that is being started by the Government of India under the leadership of Prime Minister Narendra Modi. Here I will tell you all about the DigiLocker and how you can use it for your benefits.

Whats is DigiLocker?
DigiLocker or Digital Locker is an Indian Cloud Storage service to store your important documents online. It is developed by Government of India. It is very similar to other popular cloud storage services like Dropbox, Google Drive etc. DigiLocker is a completely free service where you can store your important documents in digital format i.e. in form of PDF, JPEG image etc. on DigiLocker and share them to others.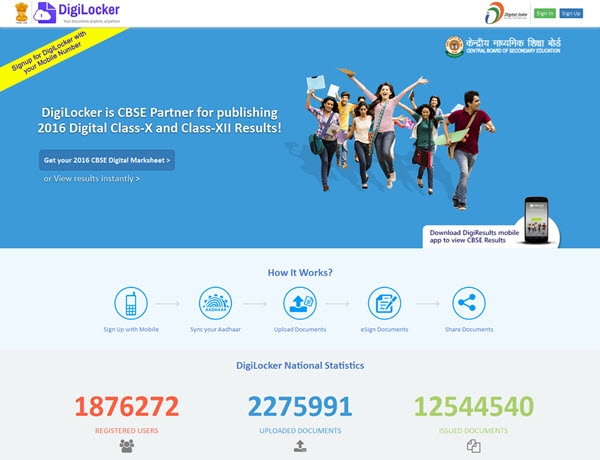 DigiLocker India Portal Link – https://digitallocker.gov.in/
DigiLocker offer you 1GB of free storage space for storing digital documents online. The maximum individual file upload limit is 10 MB. DigiLocker is safe and secured cloud service that has below mentioned security features implemented in it:
DigiLocker Security Features
256-bit SSL Encryption
Biometrics based & Mobile Authentication based Sign Up
ISO 27001 certified Data Centre
Data Redundancy / Data Backup
Timed Logout or Session Timeout
Security Audit
Technical Terms Associated with DigiLocker
Here is the description of various technical terms associated with DigiLocker service.
Resident – An Individual who uses DigiLocker portal and its Services based on Aadhar number.
Issuer – The entity who issues e-documents to individuals in a standard format and making them electronically available e.g. CBSE, Registrar Office, Income Tax department, etc.
Requester – The Entity which requests secure access to a particular e-document stored within a repository e.g. University, Passport Office, Regional Transport Office, etc.
Repository – Collection of all e-documents that is exposed via standard APIs for secure, real-time access.
Access Gateway – It is a Secure online mechanism for requesters to access e-documents from various repositories in real-time using URI (Uniform Resource Indicator).
DigiLocker Portal – It is a Cloud based online service for storing digital documents. It can be accessed through web and app.
What you can do on DigiLocker?
Upload Documents Online
eSign Documents Online
Share Documents to Others
View CBSE Exam Results
How to use DigiLocker Digital Locker for Storing Documents Online?
Here is a complete guide on how to register and sign up to DigiLocker and how to upload documents on it.
How to Register or Sign Up for DigiLocker?
Follow the instructions below to Signup for DigiLocker.
1. First visit the following link https://digitallocker.gov.in/public/register
2. Enter your Mobile Number, click on Continue and then Enter OTP received on your mobile and click on Verify.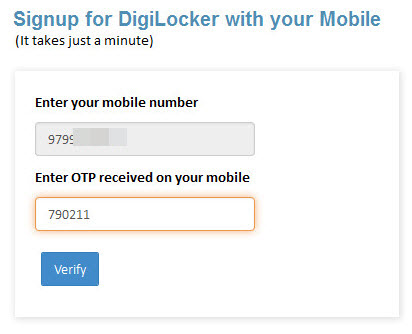 3. Now enter your desired username and password.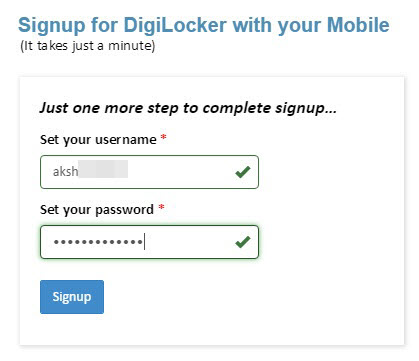 4. Click on Signup.
5. Now enter your Aadhaar card Number and use any one of the following options i.e. Fingerprint or OPT (one time password) to verify it. If you don't have Aadhaar Card number then click on Continue here link to complete the registration.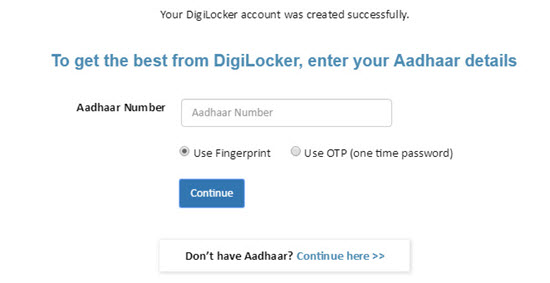 After successful registration you will be taken to the DigiLocker dashboard where you can upload your files and documents. Here enter your email on the box shown below and verify it for security purposes.
How to Upload Documents on DigiLocker?
Follow the instructions below to upload documents on DigiLocker Digitital Locker Portal.
1. Click on the Uploaded Documents link on the left side.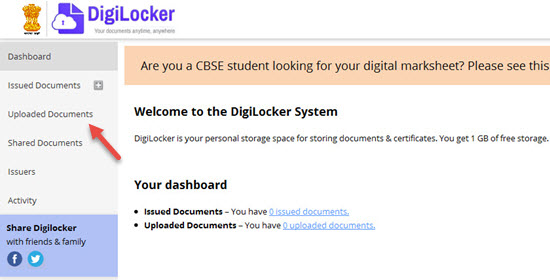 2. Here you can upload your documents and also all the uploaded documents will be shown here. Here you will see two folders named Document and My Certificates already present. You can create more folders here if you want to.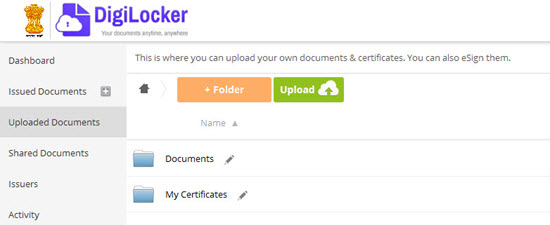 3. Click on the Upload button on the top to upload the documents to the desired folder. After uploading the document you can also specify the document type i.e PAN Card, Driving License, Passport etc. Other things you can do here is eSign and Share the document to other users. For eSign you have to link your Aadhaar card to your account if have not done it already and for sharing you have enter the email address of the person to which you want to share the document.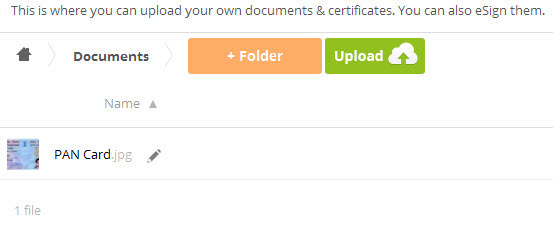 Here you can also download and delete the document using the two buttons located on the extreme right side.
Note: The maximum upload limit of the file is 10MB so make sure your file is under this size otherwise make it smaller than 10MB. For additional features that include Issuers for issuing document, you have to link your aadhar card to your DigiLocker account. Also make sure that you have registered mobile number for your Aadhaar card otherwise you will not be able to link and use the additional features like eSign and Issuers.
From dashboard's Account Settings you can change your password, view your Storage Space usage, verify your email address, and link your DigiLocker account with Facebook and Google.
DigiLocker Digital Locker App
You can also access DigiLocker on your Android Mobile Phone using Digital Locker App that you can download below for free.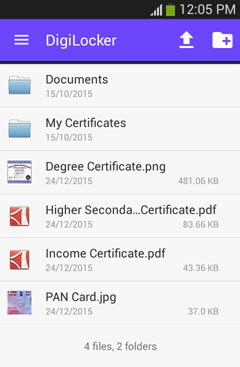 Benefits of DigiLocker
Here are the various benefits of DigiLocker service both for Indian users and Indian Government.
Indian Citizens can access and download their important documents online anywhere.
Government Departments can easily access the required documents for the individuals from the portal thus eliminating use and paper and it also saves time.
Users of DigiLocker can digitally sign the documents using eSign facility. This is like self attesting the documents by the user.
Important Digital Locker Links
Here are the important links for DigiLocker Digital Locker service:
Digital Locker Login – Use this link to login to your DigiLocker account.
Digital Locker Sign up – Use this link to sign up for the DigiLocker account or for DigiLocker Registration.
DigiLocker Resources – Find important resources on DigiLocker.
DigiLocker Contact us – Use this link for contacting DigiLocker support team and staff.
DigiLocker FAQs – Find all the Frequently Asked Questions about DigiLocker
Final Words about DigiLocker
DigiLocker is good attempt at making cloud based storage service for Indian users that is simple in operation and very easy to use. I have seen many users asking that Is DigiLocker Fake? and my answer is that it is not fake and it actually works as it is intended to. But when we compare it big international players like Dropbox, Google Drive, Box etc. then it lags behind in terms of performance, storage space and features. This is because DigiLocker is still in its early phase or beta testing phase. Having said that DigiLocker is still a secure place to keep your all important documents online in digital form.
Read more: