What are the Risks in using Cloud Services for Storing Files?
Cloud Storage services have grown tremendously over the couple of years, all in terms of popularity, usage, technology and storage capacity. People have now begun to trust them and use them frequently for storing their data, files or information. But one thing everybody must know that your data will never be totally safe online no matter how secure the cloud service is. Here in this post I will tell on which type of data or information you should avoid storing on cloud and some best practices to follow when using cloud services.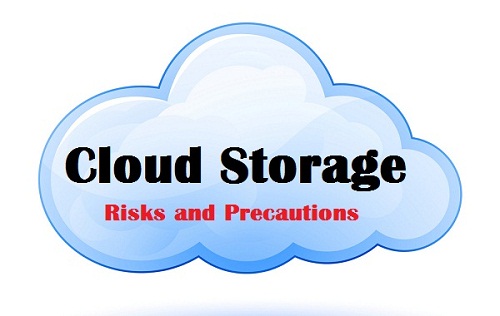 What is Cloud Storage?
A Cloud Storage service is basically a type of service where users can store data/information or files online on servers that are distributed over various locations. These multiple remote servers are linked or connected to each other for serving and sharing of our files or data.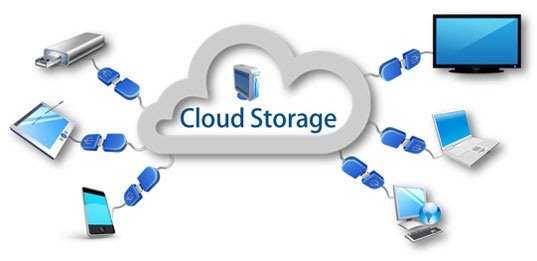 Popular Cloud Storage Services
Here are some of the most popular and widely used cloud storage services. These cloud services are used by many people and companies all over the world to store their data.
Dropbox
Google Drive
OneDrive
SkyDrive
Box
Amazon Cloud Drive
ADrive
Bitcasa
SugarSync
Copy
Mega
Must Read: DigiLocker – Indian Cloud Storage Service
Comparison of Some Major Cloud Storage Services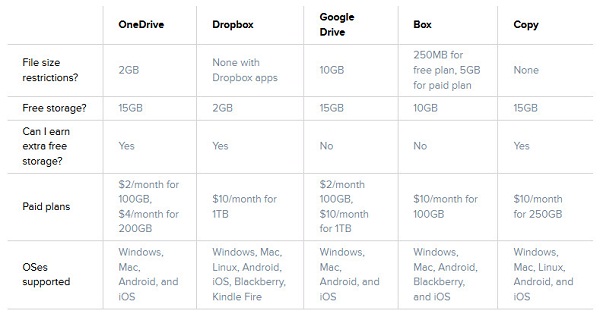 Benefits of Cloud Storage
Here are some of the major benefits that you can get by using cloud storage services for storing your files or data.
Security & Reliability
These cloud services are pretty secure and are equipped with strong and powerful encryption algorithms that are very difficult for anyone to break or get into. The top most cloud services are very reliable both in terms of data integrity and safety. You data or files will be safe on them as they have very powerful and reliable storage systems. Your files will also be protected from getting infected with viruses or malwares as they have a check on them.
Cheaper & Cost Effective
Cloud storage is not that cheaper but can be cost effective, as you have to pay only for the amount the space you need. They also offer free storage space ranging from 2GB to 15 GB, which I think is more than enough for an average user or small businesses.
Features and Platform
These cloud based services offers a lot of features like online backup and restore, sharing options, flexibility etc. They also support variety of Platforms or Operating Systems that includes Windows, Linux, Mac, iPhone, Android, Blackberry etc.
Usability and Accessibility
You can access your important files anywhere by using internet. This makes it easier for anyone to access their data as you do not have to carry a physical storage device wherever you go.
Risks Involved in Storing Sensitive Data on Cloud Services
Here are some major risks involved in storing information online on cloud storage services. Although these services are very good and has good encryption and security features but there is always a risk involved if you are storing something online.
Risk of Losing of Information
You may lose your information due to cloud server failure that can be due to hard disk crash, hacking or due to viruses.
Risk of Getting Hacked
You cloud service account can get hacked and the intruder can gain access to all your private files and data, and can harm you in multiple ways.
What Information you should Avoid Storing on Cloud
Here are some of the things that you should avoid storing on cloud services to be on the safer side.
Private Photos/Pictures or Videos – You private photos / pictures or videos that you do not want anybody to see or share among others.
Bank Account Numbers – Your Bank Account Numbers, Net Banking passwords, ATM Debit Card / Credit Card Numbers, Passwords and PIN.
Passwords – Passwords for your Email, Business related accounts, hosting etc.
Private Information – Any of your secret private data or information that is most important to your business and your life.
Best Practices to follow when using Cloud services
Here are some best practices that you can follow to avoid risk of getting your cloud service account from being hacked.
Use Strong Passwords
Use strong passwords for your cloud service account. For a strong password use combination of letters, numbers, symbols, special characters and capital letters.
Use a Secure Computer to Access your Cloud Account
Do not login your cloud account from a computer that you do not trust. Always login from a secure computer or from your own private computer. Also always make sure that the computer that you are using is free from any kind of viruses or malwares.
Do not share any information with others
Do not share or tell anyone about the information regarding the cloud service you are using and what type of information or files you are storing on to it.