BSNL FTTH Broadband & ONT Modem Overview
BSNL or Bharat Sanchar Nagam Limited is the largest telecommunications company in India that provides variety of services that include Telephone service, Mobile services and Broadband Internet services. BSNL is also the largest provider of Broadband Internet in India and it generally employs ADSL technology for providing broadband services through telephone line. ADSL technology is a bit old and has limits so to counter that BSNL has introduced the FTTH Technology for providing number of high bandwidth services including broadband under one cable which is the Fiber optic cable. Now let us learn what BSNL FTTH technology is about.
What is a BSNL FTTH?
FTTH stands for Fibre to the Home is an advanced technology by BSNL in which the carrier is a fiber optic cable instead of copper wire for transferring data / signal from one place to another. It is also called BSNL Fiber Broadband or FTTH BSNL Broadband. In a fibre optic cable the signal is transmitted in form of light whereas in a copper wire the signal is transmitted in form of current. The transmission in fiber optic cable is purely digital as opposed to analog in traditional metal wire transmission.
The various Advantages Optical Fiber over Metal Wire are:
Greater bandwidth and speed
Lesser Interference in optical fiber cable
Purely Digital transmission of data
Fiber Optic cables are Thinner and can carry huge load
BSNL can provide the below mentioned services over FTTH:
TV over IP Service (MPEG2).
Broadband Internet Services
Video on Demand (VoD)(MPEG4) play like VCR
Audio on Demand Service
Bandwidth on Demand (User and or service configurable)
Remote Education
Point to Point and Point to Multi Point Video Conferencing, virtual classroom
Voice and Video Telephony over IP: Connection under control of centrally located soft switches
Interactive Gaming
VPN on broadband
Dial up VPN Service
Virtual Private LAN Service (VPLS)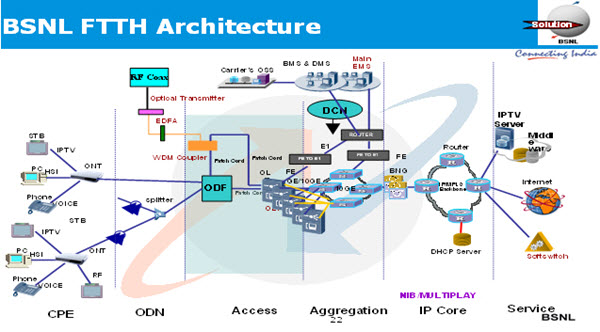 Initially BSNL FTTH is expensive than the normal ADSL broadband connection because of the higher cost of cables and FTTH modem involved in it but it is the worth the extra money you pay for.
Advantages of BSNl FTTH over ADSL:
Fast and Stable Speeds
No frequent disconnection
Lower Ping and Latency
Not too costly
Dedicated optical fiber cable to your home
BSNL FTTH Modem / ONT Modem
You must know that you cannot use your current ADSL Modem for BSNL FTTH Broadband connection. This is because of the difference in the technology and the physical medium or carrier involved.
There is a special kind of modem used for BSNL FTTH broadband connection and it is known as ONT Modem. ONT stands for Optical Network Terminal in which the input is the optical fiber cable as opposed to the telephone wire which is used ADSL modems.
An ONT Modem is costlier than the ADSL modem and it does not come with inbuilt Wi-Fi functionality. This means you have to use an additional Wi-Fi router with ONT Modem if you to enjoy wireless internet. In ONT modem the input is the optical fibre instead of wire that goes in the optical fiber port of the FTTH Modem.
Note: You WiFi ADSL Modem can work with your ONT Modem if the ADSL Modem has WAN port functionality.
Here are some good Budget Wireless Routers than you can use with BSNL FTTH Modem or ONT Modem.
The connection of Wireless Router to BSNL ONT Modem is more or less the same as you do with an ADSL modem to a Wireless Router. Below is picture on how an ONT Modem works with Wireless Router.
Final Words on BSNL FTTH Broadband
BSNL FTTH is surely faster and quicker than the traditional ADSL broadband from BSNL. Also the latency and ping in BSNL FTTH Broadband is very low which makes it great for online gaming. So if you are not happy with your current ADSL BSNL broadband connection then you must give BSNL FTTH Broadband a try as it is miles ahead in terms of performance.
Read More on BSNL: