Reduce Windows 7 Memory Usage for Low RAM Computers
Windows 7 is a very popular Windows operating system and is used by many people around the world. It requires at least 2GB of RAM to run smoothly on your computer, whether it is a PC or Laptop. Everyone does not have the required amount of memory for whatever reasons they have but they still want to run and enjoy Windows 7 on their computers. The Low RAM especially 1GB can cause serious performance issues if you are running Windows 7 on your computer. So here in this post I will tell you some tweaks or customizations so that you can run Windows 7 fairly on even 1GB of RAM. These tips may be applied on Windows 8 operating system also.
Problems Faced by Low Available RAM in Windows 7
If you are windows 7 with 1GB of Memory then you will face some serious performance issues that are mentioned below.
Slow Performance
You computer will perform or run very slow and will take too much time to process anything or open an application or program.
Freezing & Shutdown
You will experience frequent freezing of your computer which is very irritating for anyone. Your computer may restart few times if the memory available for applications or operating system becomes too low to run.
Application and Programs Failing
Applications, Programs or Softwares that requires considerably larger amount of memory will fail to run and crash abruptly in the middle of your work.
How to Check Memory Usage in Windows 7
You can check memory usage by going to Task Manager by right clicking your windows taskbar. Here you can see the Physical Memory usage on the bottom right of the task manager. You can also click the Processes tab and see which process is consuming how much CPU and RAM.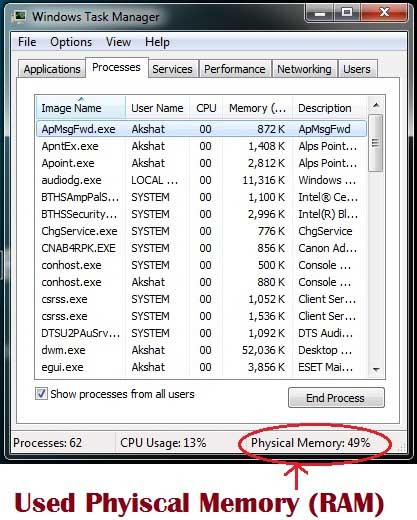 How Much RAM should be Free for Proper Functioning
For proper and smooth functioning of Windows 7 you should need at least 30% to 40% Memory as Free given that you are using or running other applications too.
Tips or Tweaks to Reduce Windows 7 Memory Usage
Here are important tweaks and optimization that you can do in your Windows 7 to make it consume much lesser RAM / Memory.
Switch to Windows 7 Basic Theme
The first you should do is to switch to the Basis Windows Theme, because the Aero Windows 7 theme consumes lot of resources and memory.
Turn Off Unwanted Services
Turn Off / Stop and disable unwanted services that consume unnecessary memory and resources. To stop and disable the service, follow the below mentioned steps:
Go to Control Panel->Administrative Tools->Services
Select the desired Service
Right click on the service and click Stop
After that Right click again on the selected service and go to Properties
In Startup type select Disabled and click Ok
Your selected service will be stopped and disabled on startup until you activate it again
Some Services to Stop to Save Memory
Here are some services that you can stop and disable safely to save some memory.
Windows Update
Windows Firewall
Security Center
Windows Defender
Windows Search
SuperFetch (Most Important)
Off all the services the most important service to stop is SuperFetch service. This service stores the most recently used programs or part of programs in your memory (RAM) as to increase the performance when you use them again, but for computers that low on RAM this thing can cause serious performance issues as there is not enough RAM for storing the programs.
Uninstall or Remove Unwanted Programs
Remove or uninstall the programs that you do not use or that you do not need. This can also save you some hard disk space and also reduce some load on your computer.
Disable Unnecessary Services at Startup
You should also disable unnecessary startup services or programs, which starts automatically when you boot up your computer and Windows OS loads.
Disable Windows Firewall & Windows Defender
If you do not use windows firewall and windows defender then you can safely disable them to save some memory.
Turn Off System Restore
Turn off system restore as there is really no need of it for most of the users. Also by turning off system restores you can save good amount of hard disk space.