How to find out which programs runs automatically on start-up
There is an inbuilt utility in Windows operating system called msconfig that can show you the startup programs that loads automatically when windows start. But this utility is very limited in features and lacks some of the advanced options. To overcome this problem, Microsoft has a third party tool/utility called Autoruns that can display most comprehensive knowledge of auto-starting locations of any startup monitor, shows you what programs are configured to run during system bootup or login, and shows you the entries in the order Windows processes them.
These include programs in your startup folder, Run, RunOnce, and other Registry keys. You can also configure Autoruns to show other locations, including Explorer shell extensions, toolbars, browser helper objects, Winlogon notifications, auto-start services, and much more. Autoruns is a Freeware application and supports Windows 2000 / XP / 2003 / Vista / Windows7 / XP64 / Vista64 / Windows7 64. You can download Autoruns from here.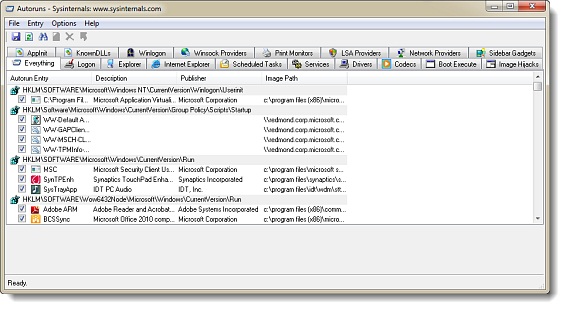 Autoruns Hide Signed Microsoft Entries option helps you to zoom in on third-party auto-starting images that have been added to your system and it has support for looking at the auto-starting images configured for other accounts configured on a system. The download package also contains a command-line equivalent utility/tool called Autorunsc, that can generate output in CSV format.
Autoruns is a standalone utility and is very easy to use. You have to just click the program and it will show you the currently configured auto-start applications as well as the full list of Registry and file system locations available for auto-start configuration. Autostart locations displayed by Autoruns include logon entries, Explorer add-ons, Internet Explorer add-ons including Browser Helper Objects (BHOs), Appinit DLLs, image hijacks, boot execute images, Winlogon notification DLLs, Windows Services and Winsock Layered Service Providers. You switch tabs to view autostarts from different categories.
Autorunsc Usage
Autorunsc is the command-line version of Autoruns. Its usage syntax is:
Usage: autorunsc [-x] [[-a] | [-b] [-c] [-d] [-e] [-g] [-h] [-i] [-k] [-l] [-m] [-o] [-p] [-r] [-s] [-v] [-w] [[-z <systemroot> <userprofile>] | [user]]]
-a    Show all entries.
-b    Boot execute.
-c    Print output as CSV.
-d    Appinit DLLs.
-e    Explorer addons.
-g    Sidebar gadgets (Vista and higher).
-h    Image hijacks.
-i    Internet Explorer addons.
-l    Logon startups (this is the default).
-m    Hide signed Microsoft entries.
-n    Winsock protocol and network providers.
-p    Printer monitor drivers.
-r    LSA providers.
-s    Autostart services and non-disabled drivers.
-t    Scheduled tasks.
-v    Verify digital signatures.
-w    Winlogon entries.
-x      Print output as XML.
-z    Specifies the offline Windows system to scan.
user    Specifies the name of the user account for which autorun items will be shown.