How to Improve GPS Signal on Android Phones
Very often we face this peculiar problem of not getting a GPS lock on our Android based mobile phones. Sometimes we have to wait for more than 10 – 15 minutes for acquiring a GPS (Global Positioning System) signal. There are various GPS applications available on the Android Market to address or to fix this issue but not all of them seems to work. But there are two applications that works perfectly and can get a GPS lock within 2 minutes if not in seconds.These two gps android applications are listed below.
Apps to Improve Signal Quality of GPS in Android Phones
Here are some android apps that can increase or improve your Android Smartphone GPS signal quality.
GPS Status
This is a very popular GPS application which is available free on android market. Its user interface is very simple and odd looking but this application does its job nicely, which is to get you a GPS lock quickly. It is developed by EclipSlim and it has an average rating of 4.6 on Android Market. The main drawback of using this application is that it consumes a lot of battery which is not good for Android Smartphones.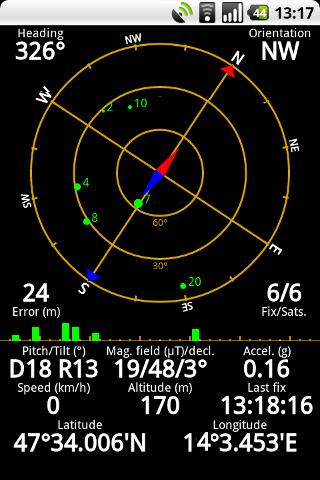 Also this application can display your GPS and sensor data, position and signal strength of satellites, accuracy, speed, acceleration, altitude, bearing, pitch, roll and battery state. Some tools included with application are compass with magnetic and true north, leveling tool, mark or share your location and navigate back later. GPS status keeps your GPS fast and you can reset or download A-GPS data regularly for faster fixes.
GPS Test
This is my favorite GPS application and it is more battery friendly than GPS status. It has large colourful screens that are easy to read and look at. GPS Test also supports GLONASS phones. It also has an average rating of 4.6 on android market. According to me it is the best GPS App for Android phones.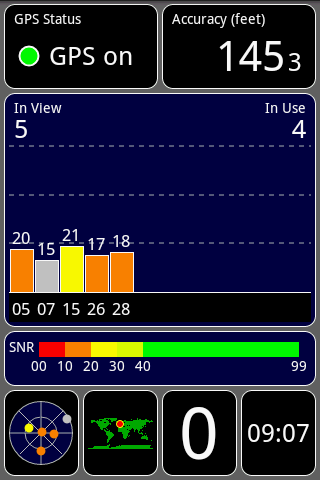 GPS Test has five screens to display various information –
GPS signal (SNR) bar chart, showing the signal strength for each satellite, as well as the accuracy and status of the GPS.
Satellite positions in the sky (skyview), shown on a rotating compass.
Your current location on the earth shown as text and on a world map. The current position of the sun and the day/night transition curve is also shown.
Your current speed, heading and altitude shown as text.
The current time read from the GPS and the local time in your current timezone, as well as the sunrise and sunset times at your location.
GPS Test is available on Android Market in both free and paid variants. Ads are not present in the paid version. This appication also has the option to reset or download A-GPS data for faster fixes.
Note: Make sure to run these applications outdoor in a clear view of sky. Also After getting a good signal do not close these applications and try running them in background for consistent good gps signals.
Also Read: