How to Save Battery on Android Phones without using any App
It is a fact that Android Smartphones are huge battery drainers. The battery of most of the latest android smartphones last just for a day at normal usage only. This is because of the high end hardware they posses i.e. CPU, RAM, Display, Memory etc. and also because of the so many features and effects present in the latest android operating system.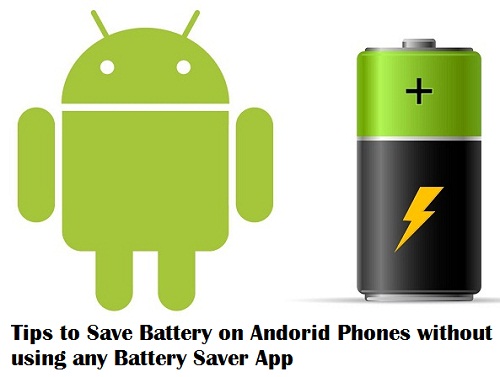 For saving battery there are many battery saving apps available on Google Play store but it do not like them and also do not recommend because of the following reasons mentioned below.
Why I Dislike Battery Saving Apps?
Here are some valid reasons on why should avoid using these battery saving apps.
Interfere with Phone Settings
These battery saving apps interfere with your phone settings and may cause unexpected behavior on your phone. In some battery apps even if you uninstalled them from your phone then also they do change your phone settings to normal and then you face many problems and have to go through each and every setting to put it back to normal. Basically these apps does nothing special besides playing with your phone settings that includes display, 3G, Wi-Fi etc. to save some battery. You can do this by yourself manually and by doing you will also have the knowledge on what you have done and revert back if something is not right.
Irritating & Annoying Ads
Most of Apps available on the Play store are free and they display these annoying advertisements in between, which is very irritating for users and these ads also eat away some of your data plan bandwidth. To remove these ads you have to purchase the premium or paid version of their apps which i don't think are worthy enough.
Does not Deliver
Some of battery saver apps on Google Play store are just useless and they did not deliver or perform . So by installing them you are wasting your phone resources that include your phone storage and RAM.
Bloatware & Buggy
Many of these battery savings apps are simply bloatware, which means they contain many useless features that consume your phone resources i.e. CPU and Memory. These apps generally have lots of bugs in them and they are not worth installing in your Smartphone.
Tips on saving Battery of Android Smartphones without using any App
Here are some very useful battery saving tips that everyone should follow. These tips will help you to get more hours of usage from your android smartphone battery.
Reduce Screen Brightness
Lower your display screen brightness to 50 percent or may be lower. This can save you some battery for your smartphone.
Kill unwanted Tasks in background
Kill or Stop unwanted applications running in the background. You can do this by using the task manager of your phone. If your android smartphone does not have task manager installed then can you download it from the Google Play store.
Turn off Wi-Fi, GPS, 3G, Bluetooth when not needed
Turn off your phone Wireless connections like 3G, GPS, Wi-Fi and Bluetooth when not in use. Turn them On when you need them and then turn them off later.
Turn Off Vibration
Turn off the vibration on your phone for ringtones, message, notifications or any alerts. Only allow vibration in Silent mode setting. Vibration is achieved by a small motor in your phone that requires decent amount of power for its operation.
Use GSM / 2G Mode
If you do not want 3G then you can change the default preferred network mode from GSM/WCDMA (auto) mode to GSM only. This can save you a lot of battery as now your phone will catch only 2G signals and 3G mode is completely turned off until you switched it back again.
Remove Widgets from Home Screen
Remove all the widgets from your phone's home screens. You should only keep the shortcuts on the screen, which you frequently use or are very important to you.
Monitor Battery Usage
Monitor your battery usage by using a very good app, which is GSam Battery Monitor. Using this app you can find out which applications are using too much battery on your phone and then uninstall these battery consuming apps it they are not very important for you.
Upgrade to Latest Firmware / OS
Upgrade your smartphone to the latest firmware or android update as these new updates often contains improvement in battery consumption department. If no official update is available for your phone then please do not try to install unofficial version of the OS, because by doing so you can further ruin your phone.