Top Free Hindi Apps for Android Smartphones & Tablets
Hindi is the official language of India and is gaining much popularity among foreigners and tourists. It is a language that you must know if you live in India or traveling to the lesser developed parts of India as not everybody knows English in India. Nowadays you don't even need textbooks or a tutor to learn or to know about Hindi as there are various mobile apps available to help you out on this. So here in this post I am sharing some of the best Hindi Apps for Android devices for persons who want to improve Hindi, people who already know Hindi and also for persons who want to learn Hindi.
Best Free Hindi Apps for Android Devices
Here are the best Hindi apps for android smartphones and tablets. These hindi android apps are free to download and use.
Hindi Grammar
If you want to learn or improve Hindi grammar then this is one the best Hindi apps for it. This Hindi grammar app will provide you all the technical and critical points about Hindi grammar. It can help you to improve your Hindi grammar and will also help you in various government exams or entrance exams. To use this app you don't even require internet connectivity. This app covers all the important aspects of Hindi grammar that includes noun, pronouns, verb, adjectives, factors, the compound, adverb, synonyms, antonyms, essays etc.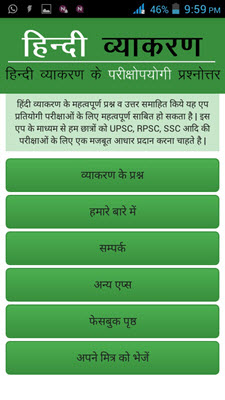 You can download the Hindi Grammar App for Android devices from the link given below.
HinKhoj English Hindi Dictionary
HinKho dictionary is a very good English to Hindi and Hindi to English Dictionary app for android devices. Using this dictionary app you can search meanings of English words in Hindi and also can search meanings of Hindi words in English. This dictionary app comes with both Online and Offline functionality or modes. In offline mode you don't need internet connectivity to look up for the meaning of any word.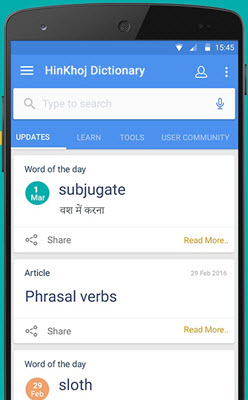 HinKhoj dictionary provides meaning of words along with definition, usage, synonyms and antonyms. You can also hear the pronunciation of both English and Hindi words so that you can know how to speak them properly. You can have both fun and learning at the same time by playing games like hangman, scrabble, cross word in this Hindi dictionary app.
This dictionary app can also serve as a translator but for single words only. Don't expect to translate the whole sentence because it is mainly a dictionary app and for full translation you have to use the translator app which I will discuss next in this post.
Google Indic Keyboard
This is one of the best and most downloaded Hindi Apps for users who already know Hindi Language. Google Indic Keyboard lets you type your messages, emails or any text in Hindi and other Indian Languages including Assamese, Bengali, Gujarati, Kannada, Malayalam, Marathi, Odia, Punjabi, Tamil and Telugu.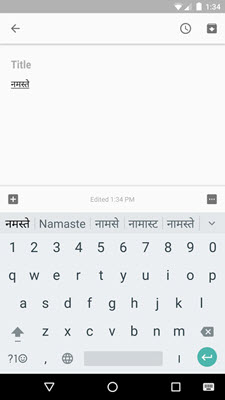 This Hindi keyboard app supports various input modes that are:
Transliteration mode – In this mode you can get output in your native language by typing the words in English language using the pronunciation. (For example, "namaste"-> "नमस्ते".)
Native keyboard mode – In this mode you can directly type the word in your native script by selecting the desired keyboard of your native language.
Handwriting mode – In this mode you can directly write in your native language on your smartphone screen. This feature is only available for Hindi language only.
Hinglish mode – In this when you select Hindi as input language then the English keyboard will suggest you words in both English and Hindi.
You can change the input keyboard anytime when typing in the input box and this keyboard also works as a Hindi to English and English to Hindi translator.
Hindi Alphabet
This is a very basic hindi app which is meant for kids and for beginners who want to learn Hindi in the most easiest way. The is an interactive learning app as it shows you the pictures of popular figures, things & objects and their meanings in both English and Hindi. This Hindi learning app teaches you implementation of Hindi Vowels (Swar) and Consonants (Vyanjan) with pictures. You can also practice alphabet writing on this app as it has a feature to the trace the Hindi alphabets on the phone. Overall this is a decent Hindi learning android app especially for beginners.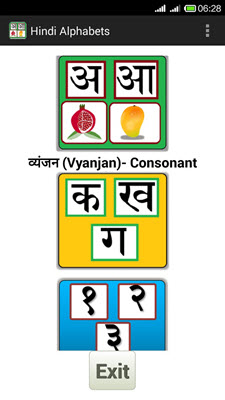 Hindi Dictionary
A good free offline Hindi to English and English to Hindi Dictionary app. Using this dictionary app you can search for both Hindi and English words. Once downloaded you don't need an internet connection for looking up for words meaning as it can also work in offline mode. You can improve your Hindi or English vocabulary using this app. The auto-suggest feature makes your task much simpler as you don't have to type in the full word. When searching for a word the result includes the word meaning, definition, example, antonyms, synonyms, and adjectives.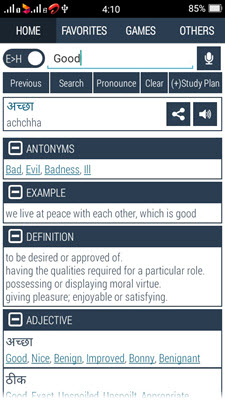 You can evaluate yourself by taking the MCQ (Multiple Choice Question) test and find out how good your vocabulary is in both Hindi as well in English. Other features include search from web, pronounce & voice search, backup & restore, word game, share words and copy words.
Hindi Notepad
A small lightweight Hindi Notepad app for android devices. You can save all your text in Hindi script in this Hindi notepad app. You can type in English and the text will be automatically converted in Hindi on-the-fly or instantly. It also lets you mix English words with Hindi. You can edit the saved file, copy the text, send it via email and sms. This hindi notepad app or Hindipad does not require internet connection which is a great thing for users who don't have internet connection on their phone all the time.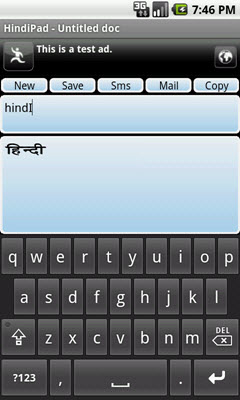 Hindi Astrology
A Hindi Astrology App for Android that you can use to find out your Rashi & Horoscope details and Future Predictions. This app is also useful for Kundli making, numerology and finding details and predictions about your astrological signs that includes Aries (Mesha), Taurus (Vrishabha), Gemini(Mithun), Cancer (Kataka), Leo (Simha), Virgo (Kanya), Libra (Tula), Scorpio (Vrishchika), Sagittarius (Dhanus), Capricorn (Makara), Aquarius (Kumbha), and Pisces (Meena). This app works offline and you don't need internet connection to use it.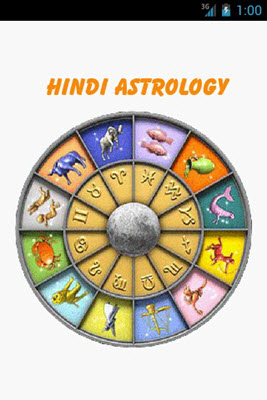 Hindi English Translator
A Hindi translator app that can translate from Hindi to English and from English to Hindi. Using this free translator hindi app you can translate long sentences both in Hindi and English. You can also share the translations with your friends and contacts. This Hindi Translator app can also be used as a dictionary. This translator app also supports voice input for text.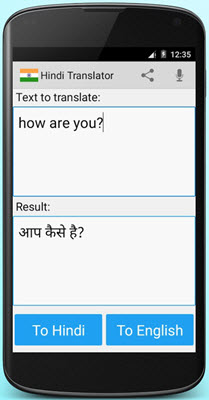 Final Words
Well I have listed some of the best free hind apps which can prove very useful for a Hindi lovers and also for tourists or travelers who visits India are new to this language. If you want to suggest any other good free Hindi App for Android devices then you can tip us by leaving a comment below.
See also: