Google Allo vs WhatsApp Comparison – Similarities & Differences
The most popular messaging app WhatsApp might have some competition now because Google has launched their new messaging app Google Allo on September 21, 2016.  It is not the first time that Google has launched a messaging app as previously we had GTalk and presently Hangouts which is an improved version of Google Talk and Google Spaces. Recently Google has also launched its free Video Calling App Google Duo which is gaining some popularity but Google has never really tasted success with it messaging apps but now they are in some hope to turn the things around with its new messenger Google Allo.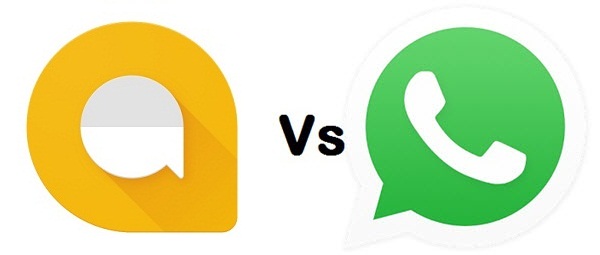 Google Allo is the latest instant messaging app from Google that is going to give some tough competition to the king of messaging app which is WhatsApp. Google Allo already received good amount of praise from the users and the tech experts from all over the world. This is because of the various advanced and new features in Google All which are not present in WhatsApp or any other messaging app around. So let us first talk about the cool features in Google Allo messaging app.
Google Allo Features
Here are the various prominent features in Google Allo messenger app.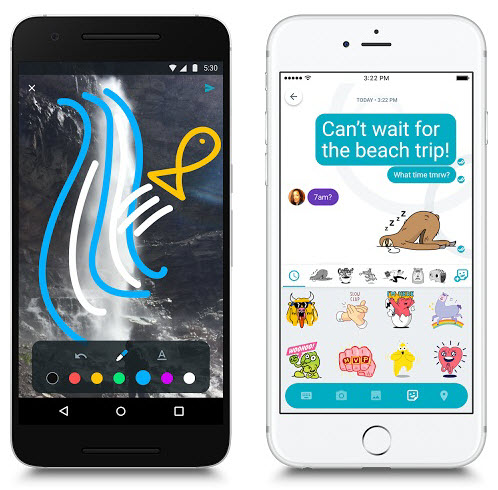 Smart Reply – It is really an innovative feature in Google Allo where you can respond or reply the sender's message without typing a single word. The Smart Reply feature in Google Allo learns over time and suggests you various replies or suggestion based on the sender's message and can really save your time. It can also provide you suggestions when the user sends you a picture. So if anybody send you a picture of a puppy then Smart Reply will show suggestions like 'aww cute' etc.
Stickers & Emojis – No more boring chat as Google Allo comes with various cool Stickers and emojis to lighten your messaging experience. You can make the chat more fun and interesting by using great looking stickers and emojis. You can also share photos on chat in Google Allo.
Shout / Whisper – This feature will make your text and emojis larger and smaller by simply dragging the send button up or down.
Paint Photos – You can add your creativity on photos you share by drawing something on it. This is really a welcome feature and can have useful applications.
Incognito mode – The incognito mode allows you to send message with end-to-end encryption so that your chat remains private and cannot be compromised.
Google Assistant – The most interesting feature of Google Allo is the introduction of Google Assistant in this instant messaging app. Google Assistant is virtual assistant that can have two way conversations. You can command it to find places, persons or answers for anything. You can engage Google Assistant in group chat with your friends and can have some fun. Also if you are getting bored and have no one to chat with then you can engage in conversation with your Google Assistant.
Google Allo and WhatsApp Similarities
Google Allo and WhatsApp are from the rival groups i.e. Google and Facebook but there is a great deal similarity between these two messaging apps. Here are the various similarities between Google Allo and WhatsApp.
Sign Up using Phone Number – Google has made the Signup procedure more simpler and easier. Just like WhatsApp you can Signup to Google Allo using your mobile number and you don't need a Gmail account or email for signing up.
Check marks or Tick marks message status – There are double tick marks or checks for indicating message send, received by the server & viewed by user. This feature you have already seen in WhatsApp.
Besides these two major things there are some little similarities also that include search bar location, goofy backgrounds in chat, similar user profiles, similar type of chat windows etc.
What is Lacking in Google Allo
The biggest things lacking in Google Allo is the absence of Voice Chat and Video Chat. You have to do voice chat using Google Hangouts and make video calls using Google Duo. The users will be definitely annoyed as they have to install and open different apps for text chat, voice chat and video chat. The advantage of WhatsApp here is that they offer voice chat or voice calls. So if Google is really serious and want to make this app successful then they must add at least voice chat in Google Allo.
Download Google Allo for Mobile Phones
Google Allo is available for both Android and iOS devices. You can download Google Allo for free from the links given below. Google Allo Apk download is also given below.
Google Allo vs WhatsApp Comparison
Here is the neck to neck comparison of WhatsApp and Google Allo instant messaging app.
| | | |
| --- | --- | --- |
| Features | Google Allo | WhatsApp |
| Company | Google | Facebook |
| Subscription Charges | Free | Free |
| Emojis | Yes | Yes |
| Stickers | Yes | Add-on |
| Photo Sharing | Yes | Yes |
| Document Sharing | Not present now | Yes |
| Audio Sharing | Not present now | Yes |
| Location Sharing | Yes | Yes |
| Voice messages | Yes | Yes |
| Voice Calling / Voice Chat | Not present now | Yes |
| Video Chat / Video Calling | Not present now | No |
| Virtual Assistant | Yes | No |
| Group Chat | Yes | Yes |
| Voice Commands | Yes | No |
Final Words & Conclusion
Google Allo is a new messaging app and it certainly packs some punch with some great innovative features that you won't find in WhatsApp or any other messaging app. The introduction of artificial intelligence (AI) in form of Google Assistant and Smart Reply makes this app more fun and really stands out from the crowd. This really is a smart messaging app which I liked in the first attempt. But the time will tell how users will see this app and if they are ready to shift from WhatsApp which has really established its root deep in this world.
See also: