Download WhatsApp for PC Windows 7/8/XP/Vista
Whatsapp for PC Free Download Guide – Install WhatsApp on PC
WhatsApp is a popular Messaging App for mobile phones. It is available for Android, iPhone, Blackberry, Nokia and Windows phones. By using WhatsApp you can easily exchange messages between your friends without any need to pay for SMS. In the last couple of years it has become very popular and today it is the most widely used messaging app in the world.
WhatsApp is available for free to download and for one year you can use it for free, but for the next year there is small subscription fee of $0.99 USD or Rs. 55/- per year. After one year of usage you will asked for the payment of $0.99 (Rs. 55/-) to continue using their services. WhatsApp has around half a billon users around the world which incredible for a mobile app.
Besides messages WhatsApp also allow you to share photos, videos, audio, location and contacts. WhatsApp requires your phone internet (data plan) for sending or sharing message and media, so your service provider will charge you on the amount of data you use. WhatsApp is pretty easy to install and use, jus download the version compatible with your phone, install it and it will automatically add the contacts in phone book as your friends. After that you can send unlimited message to your friends for free and it also supports Group Chat. One more good thing about WhatsApp is that it is free from Ads i.e. you will not see any of those annoying ads in WhatsApp messenger.
Download WhatsApp for Windows and Mac
WhatsApp is only available for mobile phones but now you can use it in Windows and Mac PC by using BlueStacks App Player. By using BlueStacks App Player you can download WhatsApp for PC and use it on your computer or laptop.
What is BlueStacks App Player?
BlueStacks App Player is an Android emulator that can run Andorid Apps on your PC/Laptop. It is available for Windows 7/8, Vista, XP and MAC OS. It is useful for those people who want to enjoy android apps or games on their laptop or PC. The user interface is quite simple and it supports almost all android applications/games. The other advantage of running apps on your computer is that they will run faster than on the mobile because of the greater amount of resources and processing power a modern computer has today. Also with BlueStacks App Player you can run apps in fullscreen mode on your browser and on PC.

Important Features of BlueStacks App Player
Run Android Apps and Games on your PC or Laptop much faster than the mobile.
Run Andorid Apps in full Screen Mode.
Easy to Use and Install
Can send and share media files such as photos, videos and audio.
Can Run almost all Andorid Apps
Available for Free (Premium version is also available with no ads)
Download BlueStacks Offline Installer for Windows 7/8/XP/Vista
Here you can download the Offline Installer for BlueStacks App Player from the link given below. It is faster to install the app from the Offline Installer as the Online Installer takes too much time to install from the internet. Also with the offline installer you can install the BlueStacks App software whenever you want as you do not have to download it every time from the internet and wait for the online installation to begin everytime.
Download Bluestack App Player Offline Installer for Windows
Download BlueStacks App Player for Mac OS
Here you can download the BlueStacks for Mac (Offline Installer).
Download BlueStacks App Player for Mac
How to Install and Download WhatsApp Messenger on PC for Windows 7/8/XP/Vista
Officially WhatsApp is not available for Windows but you can make it work and use it on your Windows PC using the BlueStacks App Player by following the steps mentioned below.
1. Download and Install BlueStacks App Player from the link mentioned above.
2. Run the BlueStacks App Player by double clicking the BlueStacks icon on your Desktop.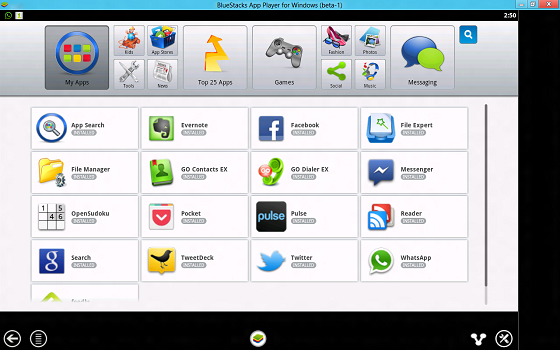 3. Now Click on the Search Icon located on the top right corner
4. Enter WhatsApp and download and Install the application
5. Now click on the WhatsApp application on the BlueStacks App Player Window to use it on your PC.