Android Nougat Features and Improvements over Android 6.0
Google has finally declared the official name for its latest and upcoming Android version which is Android Nougat. It is also known as Android N (previously) and Android 7.0. The upcoming version of Android was known as Android N previously but as of now it has been officially renamed as Android Nougat. In terms of version number it will be known as Android 7.0.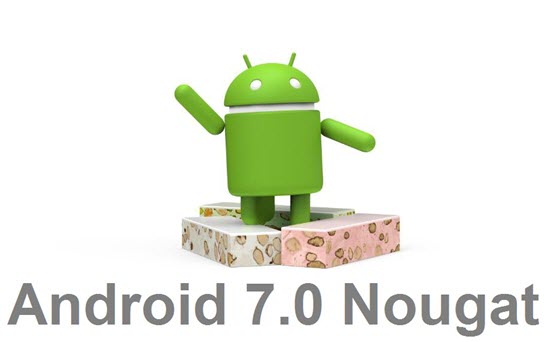 Currently Android 6.0 or Android Marshmallow is the latest officially running Android OS and is found in some of the mid-range and high-end Smartphones. But there are quite a few new android phones out there that are still running Android 5.0 Kitkat and have not been updated to Android 6.0 Marshmallow. Android is known for having names based on dessert and this one i.e. Android Nougat is no exception.
There were many new features included in the currently running Android 6.0 or Android Marshmallow including doze, contextual assistant, usb type c support, app standby, midi support, hotspot 2.0 and more. Now with announcement of Android Nougat all these features will be tweaked for more functionality, performance along with the addition of many more features.
Also Read: Android vs iOS vs Windows Phone Comparison
Android 7.0 Nougat New Features
Android Nougat or Android 7 comes with many improvements and features that can really improve the performance and enhance user experience. Here are some of the new features and enhancements in the upcoming Android 7.0 Nougat operating system.
No Bloatware
Android Nougat says no to bloatware and you will not find any unnecessary apps installed on it. Bloatwares are unwanted softwares that consumes lot of resources i.e. cpu, memory, disk space and slows down your operating system to considerable extent. So with the absence of any bloatware Android Nougat will have better performance than its previous versions.
Multiple Window Support
Android Nougat introduces a new multitasking feature which is the support for multiple windows on single screen. This allows you to work on two apps simultaneously on your mobile screen. The apps can be placed side by side or one above the other in splitscreen mode. You can also resize the apps window according to your needs.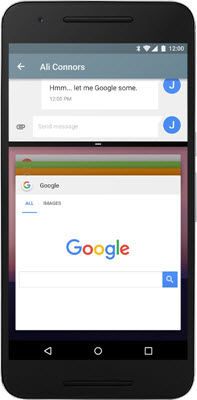 For Android TV users a new addition is the Picture-in-Picture (PIP) multiple window feature allows you to watch TV and work on multiple apps at the same time on the single screen. The video is resized to smaller size and is placed on the top corner of your android TV device while other apps runs along with it in the background.
Doze on the Go
Doze feature was first introduced in the Android 6.0 Marshmallow where all the CPU and Network activities are halted and put into sleep state when the phone is unplugged, stationery and the screen is off. The phone comes back to power when it is moved, plugged in or the screen is turned On. Doze is power saving or battery saving feature that was added to Android 6 Marshmallow, but in the Android Nougat this feature is extended to further level.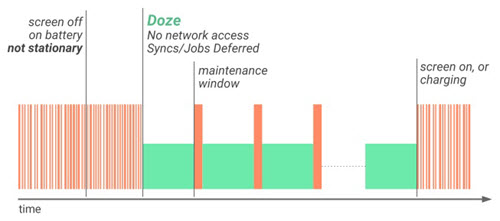 The Doze functionality is tweaked and enhanced in the latest Android Nougat where the phone can enter the Doze state even when it is moving or is not stationary. This means  that when your phones is in your pocket then also it can switches to Doze state. This is known as Doze on the Go in Android Nougat.
Better Notifications
Android Nougat has improved the way notifications are delivered on your mobile phone. Also it brings various enhancements to the notification area. Now all the similar notifications will be bundled or grouped into one so to avoid any clutter. Also you can directly reply to the messages in the notifications interface which is very handy and time saving feature.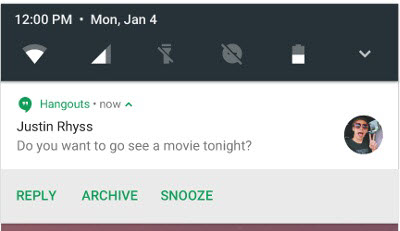 Performance Optimizations
Android Nougat contains various performance optimizations related to RAM and battery. There are good numbers of system level improvements to optimize the background processing of apps. Android Nougat now includes Vulkan, a new 3D rendering API like OpenGL ES to increase the performance in games and graphics intensive applications. It also minimize CPU overhead and allows GPU to directly take over the operations. Android Nougat also gets Sustained Performance Mode (SPM) for providing consistent App performance over longer periods of time.
Data Saver Mode
Android Nougat comes with new Data Saver mode which reduces your data usage to a considerable extent. You can specify the data usage settings for apps or completely block the background data usage by applications. It is a very handy feature that can save you data cost and usage without installing any third party applications for controlling data usage functions. This is really one of the best features in the Android 7.0 Nougat.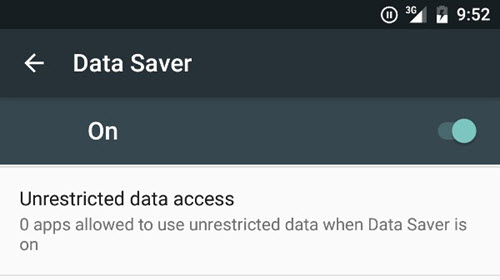 Instant Apps
Android Nougat will allow you to run apps without installing them from Google Play.  Here you just have to click on the app icon and it will run on your phone. If you like the app functionality and interface then you can install it on your android phone and if you do not like it then you can look for another app having the same functionality on Google Play. Also it gets Seamless updates where the updates will be able to install in the background and run with only a reboot. Also even the largest of apps can now install very fast in Android Nougat in a matter of seconds.
Night Mode
Android Nougat comes with Night Mode to reduce eye strain during night. When activated it can automatically switch to darker theme and can adjust the tint to yellow if blue is making you unpleasant.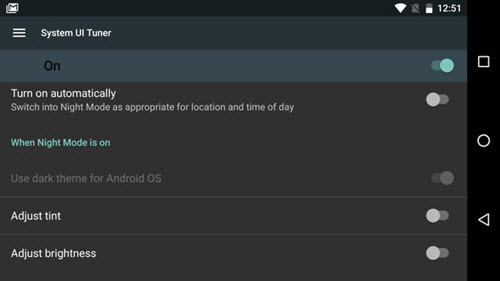 Other Features
There are many more features in Android Nougat that include number blocking, call screening, multiple languages support, new emojis, better security, direct boot for faster startup, Virtual Reality (VR) mode, new keyboard templates, visual and graphics enhancements and much more.
What Phones will get Android Nougat?
All the flagship smartphones from LG, HTC, Samsung, Google will first get the Android Nougat update. The noticeable phones that are guaranteed to get the Android Nougat update are HTC 10, HTC One A9, HTC One M9 , LG Nexus 5X, Huawei Nexus 6P.
The phones that are likely to get Android Nougat update are Moto G4 Plus, Moto G4, Moto Z Phones, Samsung Galaxy S7, Samsung Galaxy S7 Edge, LG G5, Galaxy Note 6, LG Nexus 5, Moto X Force, Moto X Style, Moto X Play, Moto G Turbo.
See also: