Why to Avoid Smartphones from Chinese or Local Brands?
Smartphones, especially the Android ones have become very cheap nowadays. This because of the advancement in technology, demand and the entry of various Chinese and Local brands in the Android Smartphones segment that offers phones with great specs at very low price as compared to similar phones of the big brands like Samsung, LG, Sony, Motorola, HTC etc.
You must also know that the Smartphones from local brands are also manufactured in China, and after that they are sold under the name of the respective local brand or company. Some popular local brands or companies of smartphone in India are Micromax, LAVA, Xolo, Karbonn, Spice, Intex, Maxx, Celkon, Videocon etc, and some popular Chinese brands or manufacturers of smartphones includes Gionee, Xiamoi, ZTE, Huawei, Zen, OnePlus, OPPO.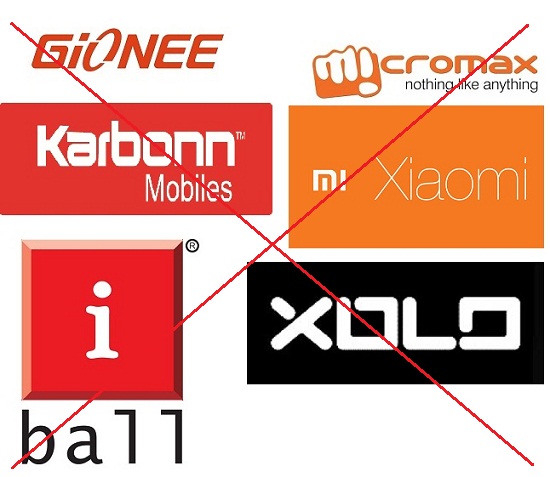 The Smartphones from these local and Chinese brands are usually cheap and look great in specs but in reality or in the long run they only gives you problems that can frustrate you to the limits. Now let us find out why these phones are not worth the money you pay for.
Reasons to Avoid Smartphones from Chinese & Local Brands
Here are some valid reasons on why you should avoid smartphones from Chinese or local brands.
Not Optimized & Tested
These Chinese and local branded Smartphone are not tested extensively or to the industry standards. This can then results into bad optimization of OS (Android etc.) and other installed apps. Also these companies are not regular or particular in releasing the fix for their bugs.
Security Issues & Risks
Some of these Chinese Smartphones are prone to major security risks as some of these phones comes installed with spyware or backdoor program that sends out all your information stored on the phone to the Chinese servers. Recently Xiaomi Smartphones have reportedly shown to exhibit this behavior where they send out the user's private or saved information to their remote servers located in China. This can be very dangerous for you if your store sensitive and private data like bank account numbers, passwords etc. on these Smartphones.
Poor Service & Customer Support
These local and Chinese branded Smartphone companies provide very poor service and customer support as they do not have sufficient coverage area or service centers in all parts of the country. So if your Smartphone is having an issue or problem then you will have hard time to get it replaced or serviced.
Overheating Issues
Many of these Smartphones, especially the Chinese ones are prone to this problem of overheating. Some of these phones can get very hot and you cannot even hold them in your hand. The heating usually occurs during calling, charging or playing a game. So they are very risky for your health and safety also as overheating can results into explosion or burning of the phone.
Poor Battery Life
These phones may come or are advertised having big batteries but in real working their battery hardly last a day. This is because of the inferior quality of batteries they provide in their Smartphones. Also some of these phones come with non-removable batteries and you have no way to replace it if you don't find their service centers in your region.
Final Words
I am not saying that all the Smartphones from these local and Chinese brands are bad. You may find a couple of decent quality and good performing phones from these brands. So if you are a heavy user and are serious about your work (official or private), and want a good quality Smartphone for a long run then you should stay away from these Chinese / Local branded Smartphones and get yourself a good branded Smartphone. Some good brands of Smartphones are LG, Samsung, Motorola, Sony, HTC. They may cost a bit higher but what you get is total satisfaction and peace of mind.