Top SMS Bomber Apps for Android Phones to Prank your Friends
If you want to have some fun and prank your friends then you must try the SMS Bomber Apps. These apps cause SMS flooding on the recipient's mobile phone and annoy him. The sms bomber app will send the same message continuously to his/her mobile phone and flood the recipient's sms inbox. You must not use these apps to disturb someone but for the fun purpose only. Also some of these sms bomber works perfectly and some of them are not but you can still try them to find which one work well for you. SMS Bomber Apps are also known as SMS Flooder, Phone Bomber or Text Bomb apps.
There is a website smsbomber.in where you can also sms bomb your friends and prank them, but here in this post I am going to provide the list of the best sms bomber apps that you use to cause sms flood on your friends mobile phone. These sms bomber apps are available for free on the Google Play and are legal to use and download.
Note: All these SMS Bomber and SMS Flooder Apps will use your mobile network to send SMS and your will charged according to your mobile operator SMS rates unless you have free sms pack enabled for your phone.
Best SMS Bomber Apps for Android Phones
These are the best SMS bomber android apps for your smartphones and tablets. You can install these apps to see which one works best for you because these apps are like hit and go, sometimes they work very well and sometimes they don't.
SMS Blast
This is a simple to use SMS Bomber app that has three modes of message bombing. You can use this amazing sms bomber app to prank your friends and have some fun.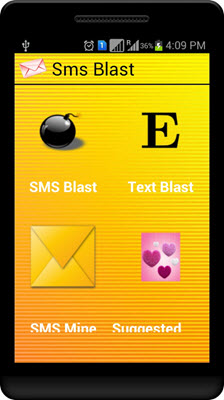 The three modes of SMS bombing in this app include:
SMS Blast – Using this you can blast a SMS on the target mobile phone. You can also specify the number of SMS to be sent and also specify the delay time between the messages.
Text Blast – Text Blast option allows you to send a Text message multiple times (up to 1000) on Whatsapp, facebook and other social networking apps.
SMS Mine – Using this option you can blast or reply an incoming message with your SMS. If someone sends you "hi" then you can set Mine to "hello" or your choice of text, specify the frequency of messages and save it. The app then automatically blast the recipients with your SMS.
This is an absolutely free SMS bomber app and you can download it from the Google play from the link given below.
TXT Blast
This is another simple to use SMS bomber app that be used to text bomb your friends. Just open the app, enter the mobile number of your friend, enter the total number of sms you want to send, enter the message and then click on Send SMS button to send bulk SMS or messages to your friend and annoy him. You can download this text bombing app from the link given below.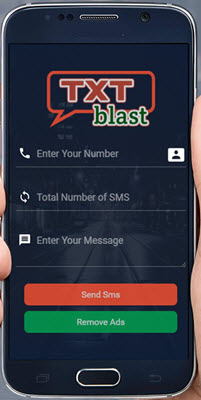 Crazy SMS
This is a very easy to use and simple sms bomber app the send a single message number of times to the sender's phone. You can specify how many times you want to send the sms and if you press the home button in the middle of sending messages then sms sending will stop.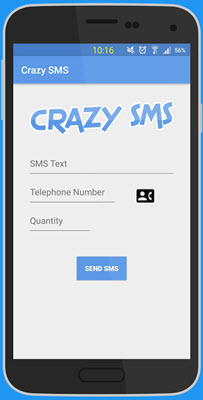 SMS Repeat
This is a simple sms repeater app that can send the same message again and again to someone. You can also specify the frequency of the sms i.e. how many times you want to send the message to the recipient.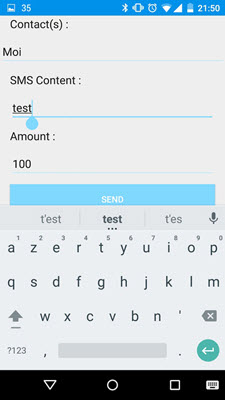 Final Words
Here I have tried my best to list all the best sms bomber apps for android phones. These sms bombing apps should only be used for pranks and fun and not to hurt someone. If you have any queries or want to suggest any other good SMS Bomber app then you can reach me by leaving a comment below.
See also: