Know Everything about Smartphone Display Screen
Display screen is one of the most important parts of a Smartphone. Your Smartphone display screen is a very complicated device and there are various technical terms and things associated with it which most of the people don't know even when they buy a smartphone. So here in this article I will explain everything about a smartphone display screen so that you can make an informed decision when you buy your new phone.
Technical Details Associated with Smartphone Display Screen
Here are all the technical terms and details associated with a smartphone display screen.
Screen Size
First we talk about the size of a smartphone screen. The size of a smartphone screen is always measured diagonally. Two smartphones with same screen size e.g. 5-inches can have different dimensions as the screen of one can be taller and in other it can be wider keeping diagonal size the same.
Screen Resolution
Screen or display resolution is the total number of pixels on your screen which are used to display image or text on your screen. The screen resolution is specified as N1width x N2height where
N1 –Number of pixels lined horizontally on your screen
N2 –Number of pixels lined vertically on your screen
For example resolution of 1024 x 768 pixels will have total of 786432 pixels. Greater the resolution of a display screen the greater will be the clarity of an image, graphics or text. If your screen has resolution equal to or greater than 1280 x 720 pixels (720p) then it is known as High Definition (HD). Resolution of 1920 x 1080 pixels (1080p) is known as True HD. So if you want greater picture clarity go for smartphone that has high resolution display or HD display screen.
List of Standard Display Resolutions for Mobile Display
| | |
| --- | --- |
| Resolution Type | No. of Pixels (width x height) |
| VGA (Video Graphics Array) | 640 x 480 |
| QVGA (Quarter Video Graphics Array) | 320 x 240 |
| WQVGA (Wide Quarter Video Graphics Array) | 360 x 240, 427 x 240 |
| HVGA (Half VGA) | 480 x 320 |
| WVGA (Wide VGA) | 720 x 480, 854 x 480 |
| FWVGA (Full Wide Video Graphics Array) | 854 x 480 |
| SVGA (Super Video Graphics Array) / Ultra VGA | 800 x 600 |
| qHD (Quarter HD) | 960 x 540 pixels |
| XGA (Extended Graphics Array) | 1024 x 768 |
| WXGA (Wide Extended Graphics Array) | 1366 x 768 |
| HD ready | 720 x 1280 |
| Full HD or True HD | 1920 x 1080 |
| Quad HD | 1440 x 2560 |
| Ultra HD 4K | 3840 x 2160 |
PPI or Pixel Density
PPI or Pixels per inch is known as pixel density of a display screen. It is number of pixels present or packed in one inch length of your screen which can be either vertically or horizontally. PPI is very different from Pixel Resolution which is independent of the area of a screen.
Two display screens with same resolution but different screen size have different PPI or pixel density. So if we have two display screens S1 and S2 having same resolution of 720p i.e. 1280 x 720 pixels but different screen size of 4.5 inches and 5 inches respectively then screen S1 will have more PPI / Pixel density as compared to screen S2.
Resolution
S1 == S2 (same resolution)
Size of Screen
S1 –> 4.5 inches
S2 –> 5 inches
Then
Pixel density
S1 > S2, PPI of S1 will be greater
Higher the PPI the better is clarity, crispness, sharpness of the text and images. You will see every fine detail in an image if your screen that has higher PPI. It must also be noted that human eye can see details upto 400 PPI i.e. you cannot differentiate in the fineness or detail in an image on two screens having pixel densities of 400 ppi and 450 ppi. So if you want a smartphone with great picture quality then you have to take Pixel density (PPI) also in account along with resolution of display screen.
Display Technology
Next we talk about the technology behind your display screen. There are different types of technologies that are used to make smartphone display screen which generally includes TFT LCD, IPS LCD, AMOLED / Super AMOLED.
TFT LCD
Thin Film Transistor Liquid Crystal Display or TFT LCD is a relatively older type of display screen technology that is cheap to manufacturer and is used in budget smartphones, TVs, computer monitors, handheld video games, cameras, navigation systems, projectors etc. It is a variant of traditional LCD display technology and TFT LCD uses thin film transistors (TFT) to improve the image quality and contrast of a regular LCD screen.
IPS LCD
IPS (In-plane switching) is also a technology for LCDs or Liquid Crystal Displays. This display technology is used in iPhones and many other current mid to high-end smartphones. IPS LCD offers most accurate color reproduction, clear images and stable response time. They require relatively more power to operate as compared to AMOLED and TFT LCD screen.
AMOLED & Super AMOLED
AMOLED stands for Active Matrix Organic Light Emitting Diode or Active Matrix Active Matrix OLED. An AMOLED display consists of OLEDs or Organic LEDs that light ups when current passes through them. AMOLED is relatively newer display technology that produces brighter, sharper images with vibrant colors.
AMOLED display consumes significantly less power as compared to others.A Super AMOLED display is one which integrates touch sensors or touch device into it which makes the whole display screen very thin and is used in high-end smartphones from Samsung.
Color Depth
The display screen may come with 16M, 256K colors or so no. Here 16M denotes 16 Million colors and 256K means 256 thousand colors. A display screen with more colors will produces accurate color production, better images and life like videos.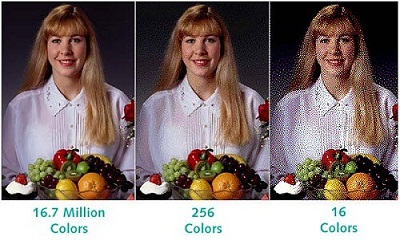 Protection Glass & OGS display
This layer of Protection Glass sits above the display screen and it protects your display screen from getting damaged. The two most widely used protection glass are Gorilla glass and Dragontrail glass. Fully Laminated OGS or One Glass Solution is another technology that integrates touchscreen device and protection glass in one unit to provide thinner screen with vibrant colors and richer display with excellent visibility. The most common example of fully laminated OGS technology is Concore glass from Corning.