How to Choose a Good 3G Data Card or USB Dongle
Data Card is a USB enabled and powered device that lets you to connect to the Internet using your mobile SIM card. It is very useful for people who travels frequently and want internet on the go. Now with the availability of 3G service you can experience very fast internet on these USB Data Card Dongles. The best thing with these data cards are that they are now available in unlocked version, which means you can use any mobile service provider SIM in them and start using it.
Currently all these data cards are 3G or 3.5G or 4G enabled having different specifications and speed. Some high speed data card can offer speed up to 21 Mbps. It must be carefully noted that this speed is in Mega bits per second and not Mega bytes per second.
Mbps -> Mega bits per second
And 1 byte = 8 bits
If you have a 5 Mbps speed Data card then it download speed in Kilo Bytes will be 500 KB/s, which is the maximum theoretical speed.
Note: The actual speed of your data card internet depends upon the speed provided by your mobile service provider.
You should be very careful in selecting a data card as there are many local and unbranded cards available in the market that are very poor in performance and quality. So here are some things that should keep in mind when a choosing a Data Card for Internet.
Must Read: Best 3G Dongles or Data Cards for Internet
Things to Look Out when buying a 3G Data Card / USB Modem
Here are some very important things that you should keep in your mind when choosing a Data Card.
Brand / Company
First and Foremost thing to consider is the brand. You should always buy Data Card from good brands or companies like Huawei, Netgear, D-Link, TP-Link. Try to avoid Data Card from local and poor brands like iBall, Intex, Zebronics, Micromax, MTS, Mercury etc. A good branded Data Card will give more performance in terms of speed, connectivity, coverage and will last longer.
Speed
Data Cards comes in different speeds ranging from 3.1 Mbps to 21.6 Mbps. Data Cards with speeds of 7.2 Mbps, 14.4 Mbps and 21.6 Mbps are very common and popular these days. If your 3G service provider speed is not that high i.e. in excess of 7 Mbps then you should get a Data Card with 7.2 Mbps speed, but if the speed of the service provider is very high then you can get yourself a high speed Data Card of 21.6 Mbps.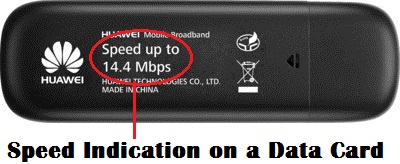 Wi-Fi Functionality
Some Data Cards comes with Wi-Fi hot spot functionality where you can connect 5 – 10 Wi-Fi devices to it and share your internet among them. It is up to the personal preference of the user, whether they want this Wi-Fi feature or not because Wi-Fi enabled Data Cards are priced higher than normal Data Cards.
Heating Issues
Just do a background check on the Data Card you want to buy, to find out whether it has heating issues or not. You can check its reviews on the Internet. It is so because heating can cause lack in performance and damage to your data card.
Operating System Support
Make sure the Data Card you are interested in do support or compatible the operating system you have. Most of the Data Cards support Windows OS only so keep this in your mind.
Compatibility with Network Operators
The Data Card should be compatible with the major Network operators / providers like Airtel, BSNL, Vodafone, Idea, Reliance, otherwise it will not be of any use to you. To make sure that the data card supports your network operator, just do some quick research of that card on its official website or internet. Also make sure that your Data Card supports all the network features i.e. GSM, HSDPA, GPRS, HSPA, HSUPA, EDGE, UMTS.
microSD Card Storage Feature
Data Cards may come with the microSD card feature where you can insert a microSD card in the Data Card and can use it as a Pen Drive. It comes very handy as you only have to carry one device only that can work both as a pendrive and a 3G dongle.
Other Features
This includes LED indicator, PIN lock feature and other software features like call support where you can make calls, receive calls and sms from your data card only. LED indicator is very useful in indicating the status of your data card at each point.
Buy 3G Dongles Online at Low Prices