Netgear AC327U 3G Data Card Review & Specifications
Netgear AC327U Aircard is a 3G enabled Data card or USB Modem that lets you connect to high speed 3G Internet. Netgear is a US based company that is known to manufacture high quality networking hardware components that includes Routers, Modems, Switches, Security Appliances, Network storage equipments etc.
Here in this post I am going to review the Netgear AC327U Data Card and tell you about its features, specifications and how it performs.
Review of Netgear AC327U 3G Data Card / USB Modem
Here is a complete review of the Netgear AC327U 3G Data Card or USB Dongle.
Build Quality
The data card comes in orange color and the build quality of this 3G Modem is very good, and it feels solid in hands. The top orange cover at one side of the data card can be removed completely by sliding it out backwards for the insertion of SIM and microSD card. The data card is a little bit big in size as compares to the other 3G data card available in the market but it is not an issue because the card performs really well.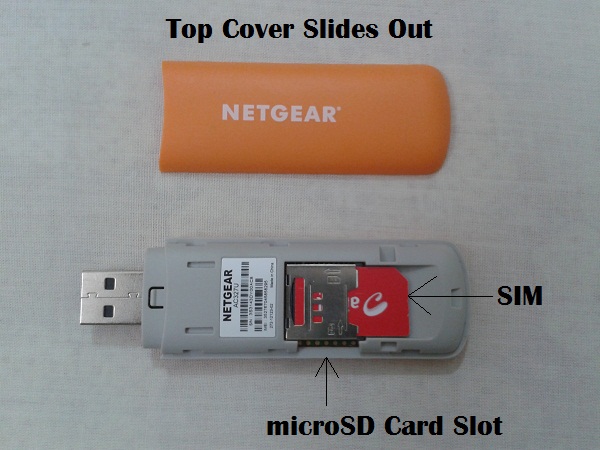 Speed
Netgear AC327U data card supports 7.2 Mbps download speed using HSDPA (High-Speed Downlink Packet Access) and 5.76 Mbps upload speed using HSUPA (High-Speed Uplink Packet Access). The practical speed of the data is very good and I have got up to 4 Mbps using Airtel 3G connection and that too in an area where I generally get very weak signals.
Connectivity & Coverage
Coverage and connectivity of the data card is remarkable as you can receive one or two bars of signal in an area of very weak or no signals. I have personally used this data card in a very weak signal zone where other cards were showing no signal but the Netgear one connected with two signal bars.
Compatibility with Network Providers
It is compatible with almost all 3G ISP operating in complaint bands. It supports HSUPA/UMTS 2100 MHz and GSM/GPRS 900/1800 MHz, and variety of mobile operators that includes Airtel, BSNL, Vodafone, Reliance, Idea, Tata Docomo etc.
Operating System Support
Netgear AC327U 3G Dongle supports Windows XP/Vista/7/8 and Mac OS 10.5X and above.
Software & Features
The software is pretty is easy to use and work with. The user interface is pretty simple and it also supports features like Calling, USSD, SMS and Phone Book. It is very to install the software and the setup comes in the data card only. The software is called Netgear AirCard Mobile Broadband genie. Software for Mac OS is a bit problematic sometimes and has received fair bit of complaints from the mac users. There is also a LED indicator that tells you about the status of your data card using red and green lights. The data card also supports microSD card up to 32 GB so that you can use the data card as a pen drive also.
Heating Issues
The data card can get a little hot after 15-20 minutes of usage but that does not impact its performance whatsoever.
Price & Conclusion
Netgear AC327U Data Card is priced at Rs. 1590/- but you can get it at discount price of Rs. 850 – 900/- from online stores like Amazon. In all it is a value for money 3G data card that is good in construction, has good speed, coverage, connectivity and is not expensive either.