Hostgator India Review – Best Web Hosting in India
Hostgator is a big name in the web hosting business worldwide. Hostgator is a hosting company in USA but recently Hostgator has launched their web hosting services in India at www.hostgator.in. This means Indian website developers and bloggers can now purchase local web hosting from Hostgator.in and have peace of their mind. There are various advantages of buying hosting from local hosting providers which are being mentioned below.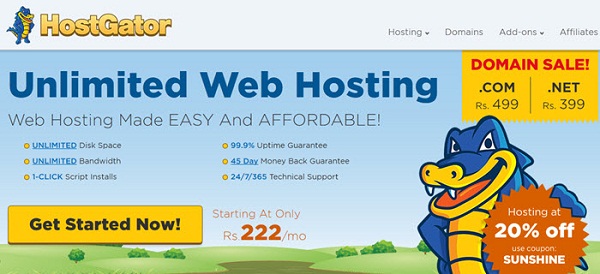 Advantages of Local Indian Hosting
These are the major advantages of hosting your website on the local web hosting provider in your country.
Local Support
If you are facing any problem with your hosting or website then you can directly contact them though Telephone and explain them your issues. Where as in international hosting calling support is very expensive because of high rates for international calls and you can contact them only though email or response tickets. Also you can explain the local support in your local language i.e. Hindi so that you feel comfortable speaking to them.
Local Server Advantage
If you are launching your website for Indian users or visitors only then having a local hosting provider is much more beneficial than international hosting. This is because if your web hosting server is hosted in India then your website will load very fast and have very low ping for users in India, and you don't have to spend extra money in buying a Content Delivery Network (CDN).
Local Payment Options
The most common problem faced by Indian people looking for a Web Hosting is that the International hosting companies only accepts Credit Card and Paypal as their payment option which most of the Indian customers do not have. But with Indian Hosting companies you can also pay with your Local Bank ATM / Debit Card, Net Banking facility or direct bank transfer deposit.
Hostgator India Hosting Plans and Pricing
Hostgator India provides the following types of web hosting services:-
Shared Hosting
Shared Hosting is the most popular and affordable web hosting in which many websites are hosted on a single powerful server. I must tell you that Shared Hosting from Hostgator India is as good as shared hosting from Hostgator USA. In fact if you are targeting Indian visitors then shared hosting from Hostgator.in is even faster than Hostgator.com. Shared hosting plans from Hostgator.in starts from as low as Rs. 400/- per month for Baby plan and can go to Rs. 695/- per month for Business Plan. These plans may cost a big higher than Hostgator.com but they are worth it and also you are getting local support and local server advantage with hostgator.in.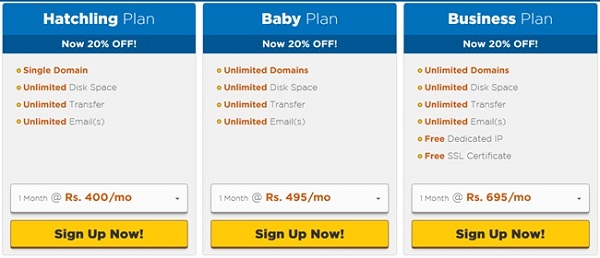 Major Features of Hostgator.in Shared Hosting
Here are the main features of Hostgator.in shared hosting which is the most affordable and popular web hosting type.
Fast and Optimized Servers
Unlimited Disk Space & Bandwidth*
Unlimited MySQL Database with phpMyAdmin Access
cPanel Control Panel
One Click Script Installation of WordPress, Joomla, Drupal etc.
24x7x365 Support
45 Day Money Back Guarantee
9% Uptime Guarantee
Green Web Hosting (Environmental Friendly)
Click here to Sign Up for Shared Hosting from Hostgator.in
VPS Hosting
Virtual Private Server or VPS hosting is much powerful web hosting as compared to shared hosting. In VPS hosting you will get your own server resources which include CPU, Memory, Disk Space, Bandwidth etc. In VPS hosting a single powerful server is divided into smaller virtual servers or nodes each having their separate amount of resources which you can use them as you like. There is no limit on use of these resources and you can utilize these allocated resources to their full capacity, whereas in shared hosting you cannot use server resources to a certain limit and if you do that then they will terminate your shared hosting account.
VPS Hosting from Hostgator.in starts from as low as Rs. 915/- per month for level 1 and can go as high as Rs. 9545/- per month for level 9. Level 1 is the lowest VPS plan and Level 9 is the highest. As the Level increases the amount of resources i.e. CPU, RAM, Disk Space and Bandwidth also increases with it.
If you are professional blogger or you are expecting good amount of visitors to your site in future then you should opt for VPS hosting only. VPS Hosting from Hostgator.in is very powerful and they have all the latest and advanced for their VPS servers which includes Dual Intel Xeon E5-2643 v2 3.5GHz, 25M Cache, 8.0GT/s QPI, Turbo, HT, 6C, 130W, Max Memory – 96GB RAM.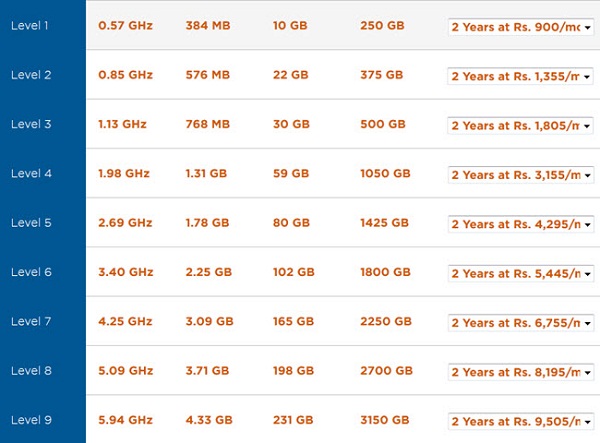 Major Features of Hostgator.in VPS Hosting
Latest and Advanced Hardware
Full Root Access (SSH)
24/7/365 support via Telephone, LiveChat, and Email
Choose Fully or Semi Managed VPS Hosting
Private Name Servers
Optional cPanel with WHM control panel
Unlimited Domains and Sub Domains
Unlimited MySQL Databases, Email & FTP Accounts
Flexible Software Options
24/7/365 Premium Support
24/7/365 Server Monitoring
Green Web Hosting
Unlimited MySQL and Email
Unlimited Domains and Sub Domains
99% Uptime Guarantee
45 Day Money Back Guarantee
Safe Harbor Certified
HostGator Community Forum Access
Click here to Sign Up for VPS Hosting from Hostgator.in
If you are looking for the best managed VPS Hosting outside India then I would advise you to go for KnownHost VPS Hosting.
Reseller Hosting
If you need to start your own hosting business then you can do so by getting Reseller Hosting from Hostgator.in. In reseller hosting you will be given limited amount of resources which includes disk space and bandwidth and you can sell a part of these resources to your customers for a certain amount decided by you and host their websites. The customer will be given cPanel control panel from where he can upload and manage its website.
Reseller Hosting Plans from Hostgator India
| | | | | |
| --- | --- | --- | --- | --- |
| Reseller Plans | Disk Space | Bandwidth | Domains | Price |
| Aluminum | 50 GB | 500 GB | Unlimited | Rs. 1095/- per month |
| Copper | 80 GB | 700 GB | Unlimited | Rs. 1545/- per month |
| Silver | 120 GB | 1000 GB | Unlimited | Rs. 2295/- per month |
| Gold | 160 GB | 1200 GB | Unlimited | Rs. 3305/- per month |
Major Features of Hostgator.in Reseller Hosting
WHM & cPanel Control Panel
WHMCS Billing software
Flexibility of Resource Allocation
Scalability
9 % Uptime
Unlimited Domains & Sub Domains
Server Monitoring
24/7/365 Technical Support
Click here to Sign Up for Reseller Hosting from Hostgator.in
Windows Hosting
Windows Hosting is for those people who use Microsoft Technologies like ASP.NET etc. to build their websites. Like Linux hosting, Hostgator.in provides a powerful Windows hosting and does not let you down in any department.
Windows Hosting Plans from Hostgator.in

Major Features of Hostgator.in Windows Hosting
Plesk Control Panel
Supports ASP, ASP.NET 2.0, ASP.NET 3.5, ASP.NET 4.0, ASP.NET 4.5, PHP, Python, SSICurl, GD Library, MVC 3.0, AJAX
Supports Programming Modules – Curl, GD Library, MVC 3.0, AJAX
24/7/365 Support
9% Uptime
Unlimited MySQL, Microsoft SQL, and Access Databases
Green Hosting
Click here to Sign Up for Windows Hosting from Hostgator.in
Final Words
So if you are based in India but want a Rock Solid Web Hosting whether it is Shared, VPS, Reseller or Windows hosting then you cannot go wrong with web hosting from Hostgator India or Hostgator.in.
GET 20% OFF on Hosting from Hostgator India

Get 20% discount on all hosting plans from hostgator.in using coupon code mentioned below:
Coupon Code:

SUNSHINE
Click here to Sign Up for Hostgator India