KnownHost Review – Best Managed VPS Hosting Provider
A VPS or Virtual Private Server Hosting is a type of web hosting in which you are given dedicated resources (CPU, RAM, Hard disk etc.) for your websites. In VPS Hosting a single powerful server is partitioned by some powerful software where the resources are divided among each partition and each partition is called as node. A VPS Hosting is relatively cheaper than a dedicated server hosting because in dedicated hosting you will be given the entire server or computer with all its resources, but in VPS a single server is used and its resources are partitioned or divided as per the requirements or availability. This means in VPS Hosting two or more VPS Accounts or Nodes operates on a single server and the limit of nodes is dependent on the how powerful the server is and how much resources it possesses.
VPS hosting is the preferred choice among webmasters who want full control of their hosting server, want dedicated resources for their websites and do not want to spend huge amount of money on dedicated hosting. In fact VPS hosting is almost as much powerful as the dedicated hosting but with lower expenses. In VPS hosting you have the choice to select the required resources (cpu, ram, hdd, bandwidth etc.) according to your website needs and then select the required hosting plan and pay accordingly.
VPS Hosting is much much better than the Shared Hosting. In Shared Hosting the resources are shared among hundreds and thousands of websites on a single and you do not have any control of your server. Also in shared hosting your account will always be on the risk of getting suspended as the hosting company will terminate your account if you exceed the specified limit for using their resources, but in VPS you can use the resources of your server completely that are given to you or that you have purchased for your requirements as there is no limit for resource usage in VPS. So in VPS hosting you will get exactly what you have paid for.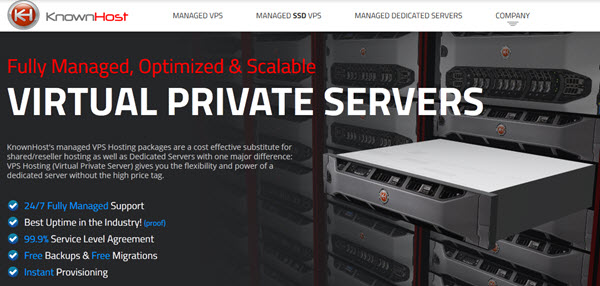 There are various web hosting companies that offer VPS hosting having different plans & pricing, but the best one that I can confidently recommended to anyone is the VPS Hosting from KnownHost. KnownHost is a well known and highly reputed web hosting company from USA that provides high quality Managed VPS Hosting and Managed Dedicated Hosting at an affordable price. They are very well known for their quality servers, excellent service and high reliability, but here let us first know the difference between managed and unmanaged vps hosting.
Managed vs. Unmanaged VPS Hosting
VPS Hosting can be categorized into two categories i.e. Managed and Unmanaged VPS Hosting on the basis of technical service provided by the hosting company.
Managed VPS Hosting is one in which you are given full technical support for any kind of issue i.e. from installing and configuring your website, resolving any issues to installing 3rd party softwares or packages on your vps server. The technical support staff will manage, configure and do everything that you ask them do with your VPS Server. You just have to issue a support ticket giving your problems or tasks and then after that the technical person from hosting company will perform the required operation from their side.
On the other hand in Unmanaged VPS Hosting you will be given the raw VPS Server with virtually no software or packages installed in it. You have to install your own HTTP server, PHP, MySQL, database, other packages etc. and configure them by yourself. So you should have complete knowledge regarding servers, scripts, linux etc. for installing and working with your website on unmanaged hosting, whereas in managed hosting the technical support staff takes care of all these things.
Managed VPS Hosting may cost a little extra because of the added full technical support they provide but they are worth the price that you pay for especially for the Managed VPS Hosting from KnownHost.
Major Features of KnownHost VPS Hosting
Here are some major features of KnownHost Managed VPS Hosting
High Performance VPS Servers
Fully Optimized & Secured Servers
99.9% SLA
Free Backups
24/7 Support
Best Uptime the Industry
Free Migrations
Unlimited Domains
Private Nameservers
Root Access / SSH
Free Virtuozzo PowerPanel
2 dedicated IP addresses
CentOS Operating System
Equal Share CPU
Free and Fast Setup
Free Third Party Installations
Easy Upgrades and Add-ons
KnownHost Managed VPS Hosting Plans
KnownHost has wide range of VPS plans with their Managed VPS Hosting starting from as low as $25 and going to $120 per month.

Click here to view all Managed VPS Hosting Plans from KnownHost
Top Reasons to Buy KnownHost Managed VPS Hosting
Here are the major things that make KnownHost easily one of the best managed VPS hosting around.
Performance & Speed
Performance of KnownHost VPS Servers are amazing, whether you have a website in WordPress, Drupal, Joomla or any other CMS or Framework, your website will load blazingly fast. I have one of my website in Drupal that has good traffic, having more than 1GB size of its database and then also it loads very fast on KnownHost Server with additional 4 websites more residing and operating on the same server. Their servers are fully optimized and can take anything easily you can thrown at them. If you want pure performance and speed for your websites then KnownHost will not disappoint you at all.
Honest & Professional
There is no hidden fee on any of their VPS plans and they also do not oversell their Nodes. You will get exactly what you pay for. They have business ethics and are completely trustable and professional group of working people.
Choice of Control Panel
You can choose your own control panel for your vps server. KnownHost currently offers three popular and widely used control panels. They are cPanel/WHM, Parallels Plesk and DirectAdmin. Each control panel will cost you an additional charge of only $5 dollars per month.
Choice of Datacenter
During signup you will also be given the choice to choose Datacenter, which are located in Central (Texas), West Coast and East Cost. All of their Datacenters offers equally good performance and this is just a user preference on which one to choose from.
Reliability & Uptime
KnownHost provides 99.99% uptime for all their servers and is extremely reliable. This is very important because you can lose some of your business and customers if your website is down even for couple of hours or so. Also their servers, technology and equipments are top notch and best in the industry. They also customize their servers for delivering greater performance and reliablity.
Excellent Customer Service
They have one of the best and knowledgeable support staff I have seen in a hosting company. If you are facing some issues or problems with your server then you can issue them a support ticket and your query will be handled and resolved in minutes. If the issue or problem is bigger, then they will first notify you stating that they are working on it and are trying to resolve is as soon as possible. After the issue gets resolved, you will receive a confirmation mail from their side.
I found their Technical support staff to be well qualified as they know what they are doing. Their customer support is available 24×7 and they are very friendly too.
Easy Upgrades & Add-ons
You can easily upgrade from VPS Plan to another higher or lower VPS Plan without any downtime and without moving any files of your websites from your VPS server. Also you can add additional resources to your current VPS plan, which includes Memory, Disk space and Bandwidth Upgrades. These add-ons will cost extra but comes in very handy when you only need to add one or more resources to your current VPS plan.
Must Recommended VPS Hosting
So if you are planning to move from your shared hosting or want a high performance and reliable Managed VPS Hosting then you should only go for KnownHost. You can sign up for KnownHost by using the link given below.
Click here to Sign Up for KnownHost VPS Hosting