Foxit Reader – A better alternative to Adobe Reader
For viewing PDF files most of us use Adobe Reader, unaware of the fact there are some better softwares available for this purpose. Adobe Reader is the most popular and widely used PDF reading software used around the internet but sadly it not the best one. It uses too many resources and has a big download size. Also it is very slow and buggy and can interrupt with other installed softwares. If you need a good PDF reader which is low on system resource and is blazing fast then it is Foxit PDF Reader.

What is Foxit Reader?
Foxit Reader is a free lightweight PDF reader that is faster than Adobe Reader and has a very small footprint. It is a feature rich PDF viewer, which allows you to open, view, and print any PDF file. Unlike other free PDF readers, it also includes easy to use collaboration features like the ability to add annotations, fill out forms, and add text to PDF documents. Foxit Reader also include better security features than adobe reader and it includes five security option that are – Security Warning Dialog, Trust Manager (Safe Mode), Verify the Digital Signature, Enhance Security with ASLR & DEP Support, Disable JavaScript.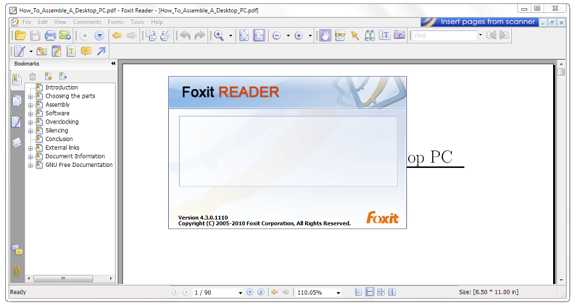 Foxit Reader requires Microsoft Windows XP/Vista/Windows 7 (Both 32-bit and 64-bit) to run. You can download Foxit Reader from here.
Features of Foxit Reader

Fast – Read PDF files without waiting.
Lightweight – PDF reader that is easily deployable and doesn't exhaust system resources.
Secure – Prevents you from getting infected with viruses and can keep sensitive information safe within your PDF documents.
Foxit Reader Free Download