Best Websites to Book Bus Tickets Online in India
Offline or traditional way of booking a bus ticket is a very painful and time consuming task, where you have to go physically to the bus station or travel agents offices, which usually are far from your house, and then have to go through the headache by asking the travel agent there for various available buses, availability of seats and their timings. But now it is possible for you to book bus tickets online and avoid the rush of going to the bus stand or travel agents.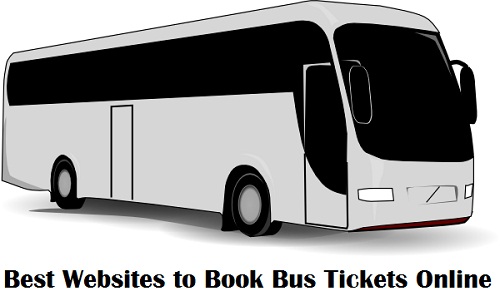 For Trains and Flights there are official as well as various other third party websites available for booking of tickets but now you can also book your bus tickets online by using some good websites for online bus ticket booking that I will mention in this post. These websites are legitimate and are totally safe for booking your bus tickets.
Advantages of Booking Bus Tickets Online
Here are some of the benefits that you can get by booking your bus tickets online.
Ease of Use
Booking tickets online is very easy and comfortable as you do not have to go to the bus station or travel agent which can be very far away from your house. You can book bus tickets in a few clicks of your mouse at home using online bus ticket booking sites.
Choice of Bus
You can choose among various buses available and also the bus type i.e. AC, Non-AC, Deluxe, Sleeper, Volvo etc. No need to ask anyone, just select your desired bus, seat and make the payment.
Choice of Seats
In online bus ticket booking you will also get the option to choose the seats according to your choice. You can choose among the available seats which are shown in the bus seats diagram on the booking website. Here you can select your seat according to your choice i.e. in front, middle, window seat etc.
Top Sites to Book Bus Travel Tickets Online in India
Here are the best websites from where you can book bus tickets online in India. These sites are arranged in order from top to bottom according to the ranking given by me.
Travelyaari.com
According to me it is the best website to book bus tickets online. The site is fast, responsive and has simple looking user interface. The best thing about Travelyaari.com is the huge collection of buses it offers which cannot be found in any other bus ticket booking site. You can also book the tickets from your android mobile phone or device by downloading its android app.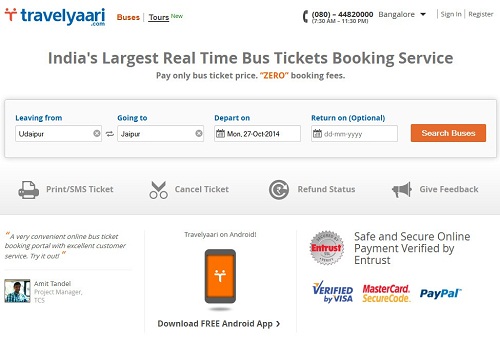 RedBus.in
Another very good website to book online bus tickets. It has grown very big in last one or two years. Also they are spending good amount of money in advertising themselves on Internet, TV, Media etc. Just like Travelyaari, Redbus user interface is also very simple and clean looking. It also has an android app by which you can book tickets from your android smartphone or tablet.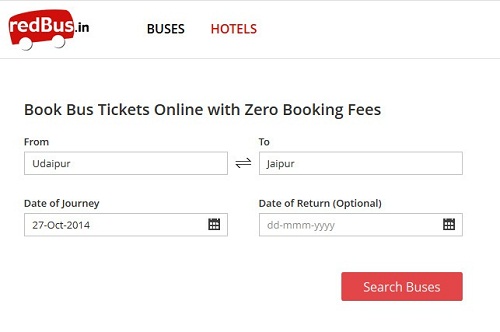 Goibibo
Goibibo is a big website that can also be used for booking of flight tickets, hotels and holiday travel packages also. For booking of bus tickets, the website is ok but not that great. You can use this site if you are facing trouble in booking tickets from the top two websites mentioned above.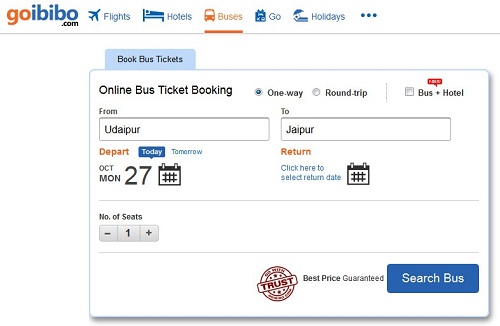 Paytm
Paytm originally started as mobile recharge website but now they have extended their services to other things like recharging of DTH, DataCard, Landline phone, electricity, gas and now booking of bus tickets. They now also have their ecommerce store which is in the growing phase and is expanding very fast. It also has the minimal looking interface for booking of tickets, which is very similar to the sites mentioned above. They also have their mobile app so that you can book tickets from your mobile phone.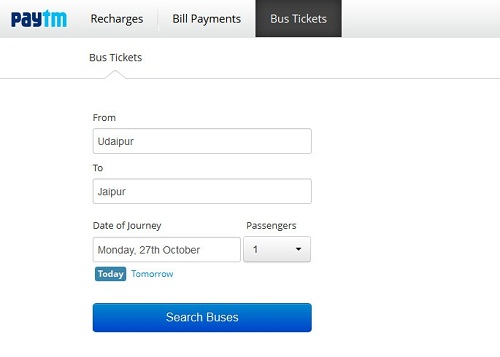 BusBol.com
BusBol.com is relatively new website for booking bus tickets online. It is not quite as popular like other big online bus ticket booking sites but at Busbol.com you can book bus tickets at cheap and affordable rates as compared to other bus booking sites. The user interface of busbol.com is very simple, clean and easy to use. The site is reliable and you can totally trust on it when you cancel your tickets and getting your refund back. So if you want to save money, want cheap tickets and great deals then Busbol.com is the one to check out.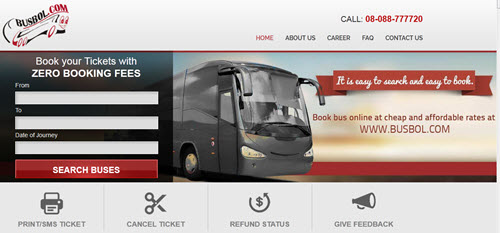 How to Book Bus Tickets using these websites
Booking of bus tickets using these sites is very simple and the procedure for booking tickets is almost the same on all websites which is explained below.
Select your Source, Destination and Date of Journey, Date of Return (Optional)
Click on Search Buses button
Select your Desired Bus
Choose your Sear, Sleeper
Enter passenger details
Click on confirm seats
Make the Payment using Credit Card/Debit Card/Netbanking etc.
Print your Ticket and you are done.
Note: Do always carry a print out of your online bus ticket to the area from where your are boarding.
See also: