Useful Tips when Buying a Second hand Used PC or Laptop
Buying a second hand desktop PC or Laptop is not always recommended but if you are on budget or don't have required money for your new computer (desktop or laptop) then buying a used computer can save you a lot of bucks, and If you follow my directions then you can get yourself a great second hand computer deal.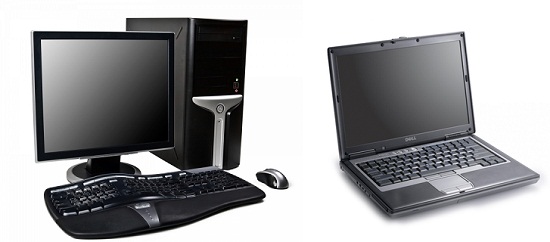 How to Inspect Technical Specs of a Used PC / Laptop
Before making any purchase you should first inspect or find out the complete configuration details of the used computer. I advise not to believe what the seller says as they can fool you, and you should find out the complete system configuration details by yourself only. You can find out the details of configuration of any computer by using a very good system info tool known as ASTRA32.
ASTRA32 is an advanced and lightweight system information tool. By using this tool you can find out the complete hardware details of any computer. Download the portable version of ASTRA32, unzip it and copy it to your pendrive and then run this tool on any computer using your pendrive, then find out the complete hardware or components details of that computer.
Download ASTRA32 Portable Version (for Windows only)
Main Things to Check out in a Used PC and Laptop
Here are the main things that you should check in a used computer or laptop before buying it.
Processor & Motherboard
First of all check the processor and motherboard model & type using the ASTRA32 system information tool that I have mentioned above. Also look for the processor speed and see whether it is fast enough for your requirements or work. If the processor is too outdated then there is no point of getting that computer as it will be slow and struggle to run the current generation softwares or applications.
Next part is to check the motherboard model and see whether its drivers are available on internet for the operating system that you are going to use, otherwise it will be of no use to you.
Memory
Check the amount of memory installed in the used computer. Look for at least 2GB of RAM as it is essential requirement to run any modern day operating systems like Windows 7 and Windows 8.
Hard Disk
Inspect the Hard disk thoroughly and check whether it has any bad sectors on it. You can check the bad sectors on a hard disk by using windows built-in CHKDSK utility. To check for drive integrity, run the following command from your windows command prompt.
chkdsk <drive letter>
For example – chkdsk c: (you can put another driver letter and check that too if the hard disk has more than one partition).
If there are some bad sectors on the hard disk then tell the seller to replace it with another one.
SMPS (for PC only)
Check the SMPS condition and the current on 12V rail. Also make sure that the SMPS has its fan working in good condition.
Battery (for Laptop only)
Batteries of Laptop do not last longer so it is very likely that the battery of a used or second hand laptop will be weaker unless it was freshly replaced by the seller. Before making a final decision make sure there is some life left in the battery and whether a compatible replacement is available or not for it in the market.
LCD Screen / Monitor
Inspect the LED / Monitor and check whether there are any dead pixels or strange lines appearing on it. If the monitor is not ok then you should avoid it ask for a replacement.
Physical Condition
Before making final purchase check the physical condition of all hardware components. There should not be any breakage of any kind on them.