Useful Battery Buying Tips for your Smartphone
It is a fact that batteries of current generation Smartphones does not last very long and you have to replace them in a year or two. Almost all of today's Smartphones are very power hungry because of the presence of high end hardware in them. If your battery has lost 50 percent or more of its charging capacity then it is the time to replace the battery otherwise it won't even last for even half of the day.
You should be very careful in selecting the battery for your Smartphone otherwise you might end up damaging your phone. So here are some useful tips on how to find the right battery for your Smartphone.
Signs to Change the Battery of your Smartphone
Here are some signs that will tell you that it is the time to replace the battery of your Smartphone with a newer one.
Swollen Battery
Your battery has become swollen, which means it has expanded in size. The expansion occurs mainly from the top side, which can be seen when open the phone battery cover. It is an indication that your battery has lived its full life and is now ready to throw away.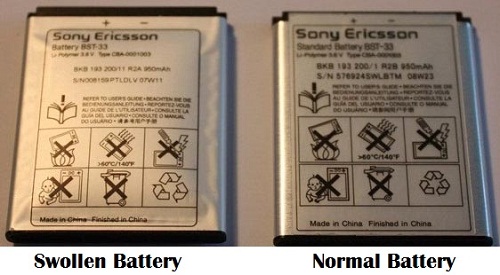 Charging very Fast
You battery might be charging very fast which is also an indication that something is not right inside the battery. You will also notice that if your battery is charging very fast then it will discharge at a faster rate too.
Discharging very Fast
If your battery is discharging very fast and not lasting for half a day on full recharge, then it means that it has lost it efficiency and you must replace it with new one.
Important Tips for Buying Battery of your Smartphone
Here are some useful tips on how to carefully choose a new battery for your Smartphone.
Match the Volt & Ampere Ratings
First and the foremost thing to do is to match the Voltage (V) and Current or Ampere (A) ratings with your original or previous Smartphone battery because if they don't match they can end up damaging your Smartphone.
Always Buy Branded
Always buy a branded battery as the cheap local batteries can cause serious damage to your Smartphone. Also do not buy refurbished batteries as they are not good either.
Never buy in Loose Packing
Never buy a battery in a loose packing even if the shopkeeper tells you that it is an original battery. These batteries will look and feel exactly same as the original batteries but in real they are refurbished ones or from the grey market. You should always buy the original battery in the company sealed packing that may have a hologram on it as a mark of originality.
See Manufacturing Details
Make sure to see the manufacturing details, so that you can know how old the battery is and where it is made. Never buy a battery that is too old i.e. more than a year old because batteries loose their charge capacity with the time.
Buy from Reputed Shop or Seller
Last advice that you should follow is to buy the battery from a reputed shop or seller, as to avoid the risk of getting a duplicate or fake battery. If you are buying online then make sure the seller has good positive feedback from good amount of users and has been around for some time