Top Reasons on Why Amazon.in is better than Flipkart
Flipkart has been dominating the Indian E-commerce market for some time but now the tables have turned with the rise of Amazon in India. Amazon as we all know is the leader of ecommerce industry in the world. It is a well established E-commerce website or company and is spread across almost all the major countries of the world. It was launched in India in the year 2013 but has been growing at a very fast rate from 2014 onwards.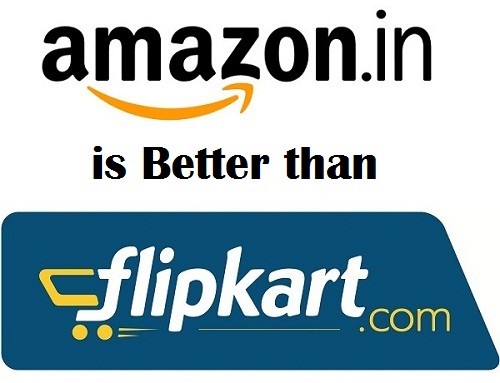 For me it has now overtaken the thrown of number one eCommerce site in India from the Flipkart because of the following reasons mentioned below.
Why Amazon.in is better than Flipkart?
Here are some top reasons an Amazon.in is ahead of Flipkart in almost all departments.
Better Deals and Prices
No doubt Flipkart was best in its early days when it comes to pricing. The prices of their products were very reasonably lower than the local market or any other Indian shopping site. But now the scenario has changed with the launch of Amazon in India, and here you will find much better deals and with prices lesser than Flipkart or any other Indian online shopping site.
Trusted & Established Player
Flipkart has been around for about 7 years but Amazon has been there for 20 years or so. Amazon has much more experience in the ecommerce industry as they were already operating in other big countries before launching themselves in India. It is a fact that Amazon has better technology, staff, service and management then the Flipkart.
Self Funded
Flipkart is funded by other foreign companies but Amazon is self funded, which means that it does not require any financial support from other companies. On the other hand if the funding from other companies or investors stop then the future of Flipkart will be at stake and they would have to shut down as there will be no other option left for them. It may be a possibility that Amazon may raise an offer to buy Flipkart if the funding for Flipkart stops.
Good Collection of Products
I have seen that there is more variety of products on Amazon.in as compared to Flipkart. The sellers on Amazon.in are growing at very fast rate and so their products too.
Better Customer Care
Amazon.in also wins in the customer care department too. The customer service support of Amazon.in is professional, friendly and their technical support staff has all the required technical knowledge for answering customers every kind of questions. On the other hand I found flipkart support to be rude, unfriendly and lacking in professionalism.
We Recommend Amazon.in
From my and various other users experience if you want your online shopping experience to be safe, want great deals and want authentic or original products then I would recommend you to shop at Amazon.in.
Visit Amazon.in for Great Deals