SpeedFan – Monitor temperature, voltages and fan speed of your PC Components
SpeedFan is a program that lets you monitors voltages, fan speeds and temperatures of your computer components or devices. It can even access S.M.A.R.T. info to show hard disk temperatures and it supports SCSI disks too. It is powerful enough to change the FSB on some hardware (but this should be considered a bonus feature).
SpeedFan can access digital temperature sensors and can change fan speeds accordingly, thus reducing noise. During hot days you can increase the fan speed of your components/devices so that they can have proper cooling and do not get too hot. It is a tiny little powerful utility that has download size of only 2 MB. For overclockers and advanced users this is a must have program for them. The best part is that it is available as Freeware. It latest version as of now is SpeedFan 4.47.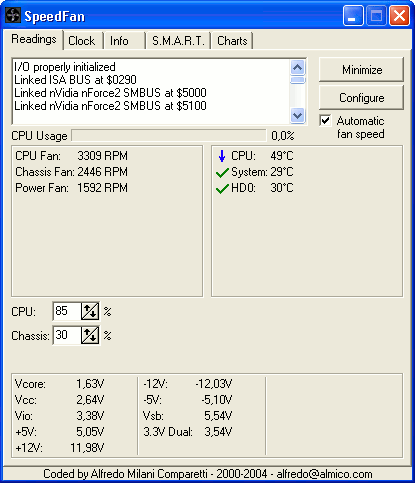 SpeedFan requires Windows 9x, ME, NT, 2000, 2003, XP, Vista, Windows 7 and Windows 8 to run. It can support 64-bit editions of Windows too. You can download SpeedFan from here.
SpeedFan can handle:
– almost any number of South Bridges
– almost any number of hardware monitor chips
– almost any number of hard disks
– almost any number of temperature readings
– almost any number of voltage readings
– almost any number of fan speed readings
– almost any number of PWMs