Solutions if your Laptop DVD Drive is Not Working
Laptops have become very powerful over the time and can serve as a desktop replacement for some people, but the one thing they always lack is a good optical drive. I have seen this in many laptops even the expensive ones that their DVD drives / DVD writers fail after some time. It is because their DVD drives are not as powerful and robust as compared to the ones found in the Desktop Computers or PC's. After some time your optical drive of laptop will start to give problems like not detecting, reading and writing optical discs (CD/DVD). This may become very frustrating for you because CD's and DVD's are the most common form of data storage, as all the games, softwares and movies are available on DVD discs only.
But there are some alternatives and solutions that you can implement if your laptop DVD drive has started to give you problems in reading and writing optical discs.
Important Measures to Take when Laptop DVD Drive is not Working
Here are some things that you can do to fix the DVD / CD problems in your laptop.
Clean the Optical Drive Lens
This is the first and the foremost thing to do when you are having trouble reading your CD / DVD dics. Laptop's Optical drive lens gets dirty faster as it is exposed every time you insert or remove your optical discs. Here below is a step by step guide on how to clean the lens of your laptop optical drive.
How to Clean your Laptop Optical Drive Lens
1. Eject your Laptop Optical Disc Drive
2. Take a new clean cotton swab and dip it slightly in a lens cleaner solution or you can also use distilled water. I suggest Never to use alcohol on the lens as it can damage it permanently.
3. Gently move the cotton swab across the lens and then leave it for 5 minutes.
4. Insert your DVD disc on the drive and you will notice that your discs have started to get read on your optical drive.
Check the Optical Drive Cable Connection
The IDE / SATA or Data cable that connects your DVD drive to your motherboard may have gone loose, so check this also by opening the bottom cover of your laptop. This is a very technical thing to do so if you do not know how to open the back cover and look for the cable then I would advise you to get it done from a proper person who does this kind of work.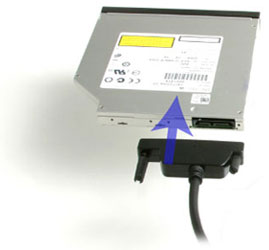 Use an External DVD Drive / Writer
If none of the above methods are working then the best solution is to get an external DVD drive / DVD writer for your laptop. External Optical Drives are more robust and works better than the all internal laptop optical drives. They also do not require any external power source and works only from your laptop USB port. Even if your laptop optical drive is working fine, then also I would advise you to purchase an external DVD writer for your laptop and use it only for reading and writing DVD's, as to save your laptop internal DVD drive for longer life. Some good brands of External DVD Drives / Writers are Transcend, Liteon, LG, Samsung, Lenovo and Asus.
Check out: Best External DVD Writers for Laptops
Buy External DVD Writers at Amazing Prices