Process Explorer – A great alternative to Windows Task Manager
Windows task manager is an inbuilt tool for windows for tracking and monitoring running processes in Windows Operating System but it lacks many advanced features. But there is a third party tool called Process Explorer that has everything which Windows Task Manager lacks. The good thing about this software is that it is from Microsoft only. Process Explorer is a freeware developed by Sysinternals, which was later acquired by Microsoft Corporation, thus also known as Microsoft Process Explorer.
What is Process Explorer
Process Explorer is a system monitoring application that displays running processes in an intuitive tree format that includes process names, program icons and other data such as description, image, and processor time. It is also a great tool to track down system problems. You can easily identify a process and the resources a particular process is holding. You can also identify the illegal processes running on your system, which sometimes are highlighted in red color. This tool/utility is also very useful in identifying spywares that's runs as some process in the background. You can kill, delete and can find the location of any process by using process explorer.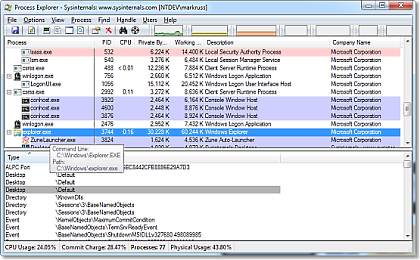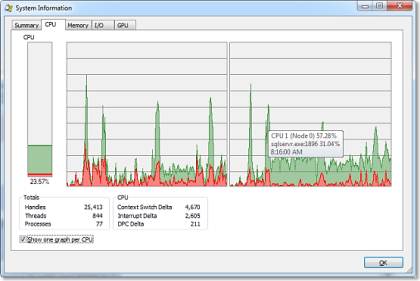 The latest version of Windows Process Explorer supports Windows XP and higher. Current stable release is v15.13 and has extra feature that allows GPU monitoring for Windows Vista operating system and onwards.
Features of Process Explorer

Hierarchical view of processes
Ability to display an icon and company name next to each process
Live CPU activity graph in the task bar
Ability to suspend selected process
Ability to raise the window attached to a process, thus "unhiding" it
Complete process tree can be killed
Interactively alter a service process' access security
Interactively set the priority of a process
Disambiguates service executables which perform multiple service functions. For example, when the pointer is placed over a svchost.exe, it will tell if it is the one performing automatic updates/secondary logon/etc., or the one providing RPC, or the one performing terminal services, and so on.
Some other additional features includes detailed information on performance, DLLs, threads, handles, TCP/IP connections, security settings, and environments.