Microsoft's Windows XP is the most popular Operating System
According to data released by a web analytics firm NetApplication, Microsoft Windows XP holds the title of being the popular choice of operating system among users worldwide. About more than 46% of the total computers in the world are still running Windows XP.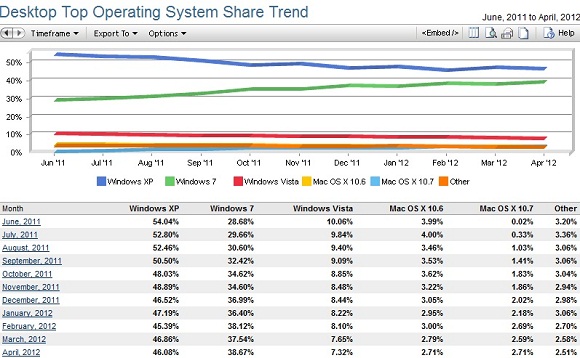 There is no denying fact that windows xp is a great operating system. Things that make windows operating system so popular are
Simple and friendly user interface
Requires relatively low hardware specifications to run as compared to other new windows os
Have almost all the features that modern operating systems have
Vista was the new operating system that was released by Microsoft after windows xp. It had number of bugs and issues and failed to make its presence. Then came Windows 7 which was a considerable improvement over Vista and is quite successful but it is also not adapted by majority of the users, as hardware requirements of windows 7 is a bit on higher side. Majority of the users of windows xp are the ones who do not have the hardware to match with new windows operating systems.
Microsoft has decided to put an end to Windows XP support in two years. This means security updates, non-security hot-fixes and technical support will not be provided to the XP users after April 8, 2014. So after two years from now users of Windows XP will be forced to seek an option to upgrade to next version of windows, which I think most likely to be Windows 8 which will be releasing in the month of October 2012.