How to find and monitor your PC hardware temperature
In Windows operating system we cannot determine the temperature and voltages of hardware components running in our PC. So what is the easiest way to know and monitor the temperature of hardware components of your computer? The answer to this question is a lightweight utility/tool called HWMonitor or CPUID Hardware Monitor
HWMonitor – Monitor your PC components Temperature
HWMonitor is a hardware monitoring program/software that reads PC systems main health sensors : voltages, temperatures, fans speed. The program handles the most common sensor chips, like ITE® IT87 series, most Winbond® ICs, and others. In addition, it can read modern CPUs on-die core thermal sensors, as well has hard drives temperature via S.M.A.R.T, and video card GPU temperature. HWMonitor supports almost all Intel and AMD based processors and chipsets.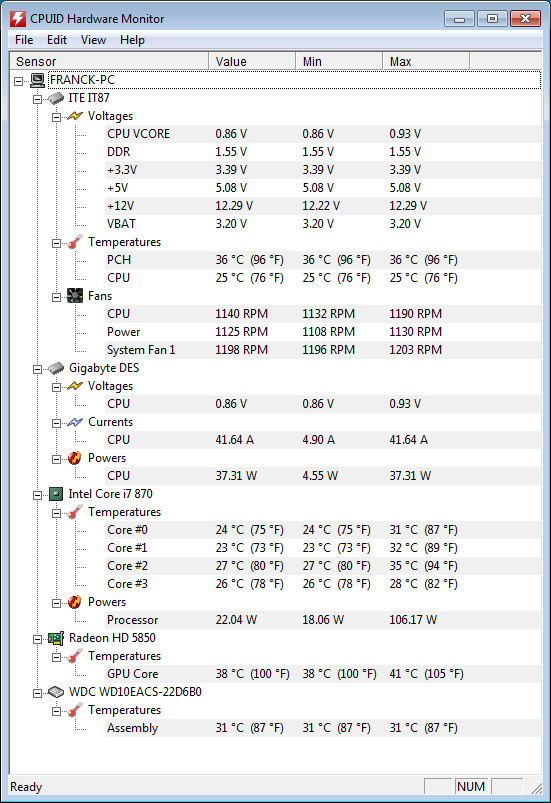 HWMonitor is available as both standalone and installable version. It is available for both 32-bit and 64-bit version of Windows.An extended version of HWMonitor is also available known as HWMonitor Pro. Over HWMonitor it has some extra features:
Remote Monitoring – Watch the sensors of one or several distant PCs through a simple TCP/IP connection.
Graph Generator – Save monitoring data and generate logging graphs as bitmap files.
Improved Interface – Sensors in system tray, editable sensors labels …
PWM Control – Fan PWM control (for ESA compliant devices).
CPUID Hardware Monitor Download