How to find out complete details of your Graphics card
Finding out your graphics card details can be tricky, as the details provided by the system information tools in windows is not sufficient to know each and everything about your card. Sometimes the card comes with its overclocking software which can give you some extra information such as temperature, fan rpm, GPU core and shader clock speed, memory size and its speed. This information is also very limited and is not enough to know your card any better.
So if you ever want to find out the complete technical details about your graphics card then you can do so by using a small utitlity called GPU-Z. GPU-Z is a lightweight standalone utility that gives you all information about your video card and GPU.  It gives complete detail/information about each and every component of you card that includes GPU chipset, memory type, memory bandwidth, pixel fillrate, video bios version, Device ID and so on.
GPU-Z Graphics Card Information Tool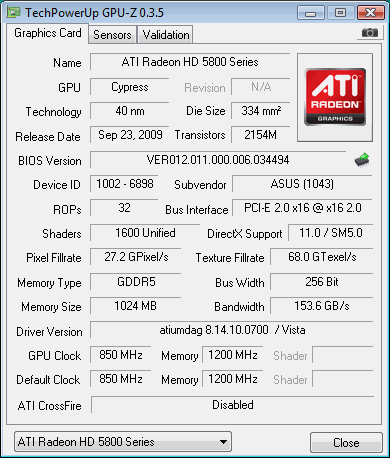 GPU-Z Features

Support NVIDIA and ATI cards
Displays adapter, GPU and display information
Displays overclock, default clocks and 3D clocks (if available)
Includes a GPU load test to verify PCI-Express lane configuration
Validation of results
No installation required
Support for Windows 2000 / XP / Vista / Windows 7 (both 32 and 64 bit versions are supported)
You can download the utility from here.