How to Find a Good Wireless Router for your Home Internet
A Wireless Router is a networking device that is used to share your network or Internet connection through Wi-Fi, so that your other Wi-Fi enabled devices can get access to the Internet. For your home internet you do not need to have those big and expensive wireless routers, but only a decent Wi-Fi router with good range & performance will do the job. So here is a buying guide on how to select a good Wireless or Wi-Fi router for your home network or internet.
Some people buy the ADSL / DSL modem with built in Wi-Fi functionality so that they do not have to buy an additional Wi-Fi router, but having an additional wireless router has its own advantages that are mentioned below.
Benefits of having a separate Wireless Router
Here are some advantages of having a separate wireless router for your internet at home.
Wide Range of Options / Choices
You can buy a wireless router according to your choice and specifications and you do not have to stick with the wireless capability of a wireless ADSL / DSL modem. If you want greater Wi-Fi range then you can have the freedom to get a router with double antennas, higher speed and specs. Also there are various brands or companies to choose from and each router model one have its own sets of features.
Better Performance
I have seen that the separate wireless router performs better as compared to the wireless DSL modem. This is because the wireless routers are built for their specialized purpose only and nothing else.
More Features
You will definitely get more features and functionality on Wi-Fi Router rather than Wi-Fi enabled DSL Modem.
Future Expansion
If you want to upgrade to a better wireless router in the future then you don't have to change the modem again, so in the first place you purchase a simple DSL modem only.
Things to Look for in a Good Wireless Router for your Home
Here are some very important things that you should keep in mind when choosing a wireless router for your home internet connection.
Speed / Bandwidth
The speed or bandwidth of a router is defined as the rate at which it can transfer data to other devices. Nowadays their speed starts from 150 Mbps and goes in high Gbps. For home use, a router with 150 Mbps or 300 Mbps is more than enough, as you are going to use it for internet purpose only. The internet speed at home connection is generally much slower i.e. in the range of 1 Mbps to 2 Mbps (up to 8 Mbps for some), so it does not matter whether you buy a 150 Mbps, 300 Mbps or 1 Gbps wireless router. The performance of all routers in this case will be almost the same because your speed is limited by your Internet connection but the router can operate much faster if the internet speed is faster. For example if you have a 4 Mbps internet connection and using a 150 Mbps wireless router then your computer will only receive speed in the range of 4 Mbps only because the router can transmit at higher speed but it is being fed only at the rate of 4 Mbps only.
Note: Here Mbps mean Mega bits per second (Mb/s) and not Mega bytes per second (MB/s)
1 byte = 8 bits
Range / Coverage
The range of a wireless router is defined as its coverage up to where it can transmit its radio signals provided there is no obstruction between them. Most of these routers work on the same 2.4 GHz band but they can have different range because the range also depends on other factors like components quality, design, number of antennas and technology used. Here I advise you to get a router with external antenna as they provide wider signal coverage. If you need extra more coverage and range then you can go for wireless routers with multiple antennas. They will cost a bit more but you will get more wireless range.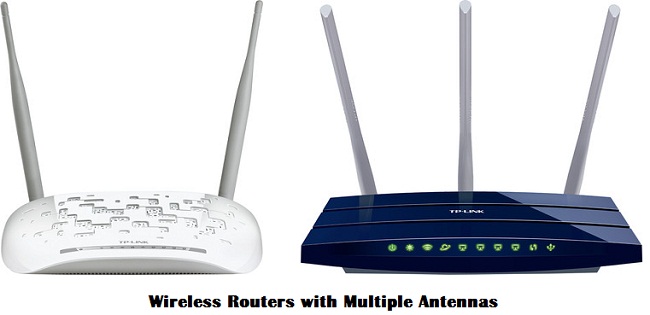 LAN Ports
Make sure that the wireless router you are choosing have at least 4 LAN ports. LAN ports are very essential as you can have more options for expansion, and even if your wireless functionality of router or laptop is not working for any reason then you can use Ethernet / LAN ports for connecting your computer or laptop to the Internet.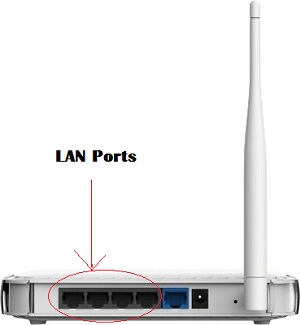 Airflow / Vents
There should be proper and sufficient vents on the top, side and bottom of the router for good airflow. This helps in maintaining your router temperature to lower levels otherwise your router can get damaged because of overheating, if you are running it for 24 hours daily.
Brand / Company
This is one of the most important factor when choosing a wireless router. A good branded wireless router will give your better performance, better speed, wide coverage or range, durability and reliability, whereas a local branded router will give you only trouble other than anything else. Some good brands of wireless routers are Netgear, TP-Link, D-Link, Asus, Cisco Linksys, Belkin.
Other Features
Nowadays wireless routers come with additional features like built-in firewall, bandwidth control, additional encryption and security features. You can get this information about them on the internet or manufacturers website.
Click here for Best Budget Wireless Routers