How to Choose a Good Domain Name for your Blog or Website
A Domain is the address of your blog or website on the Internet. A domain consists of two parts, a domain name and a domain extension. A domain name is just a name that you can choose whatever you like but the domain extension should be chosen from the specified list of available domain extension types. A domain extension comes after the domain name followed by a dot (.).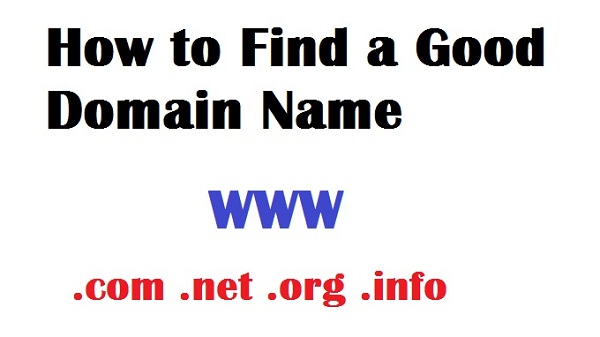 Example of a Domain
Domain name – > abcsite
Domain extension –> .com
So your website domain address will become www.abcsite.com
It is not necessary to specify www before a domain name as it will get detected automatically in your web browser.
A good domain name is very essential for your website whether it is for business or personal use. It creates the first impression of your website in the mind of the users. Here are some top reasons on how to choose a good domain name for your blog or website.
Tips on Finding a Good Domain Name
Here are some important tips for you on how to choose a good domain name for your website or blog.
Keep it Short
Keep the name of your domain short. Short names are easy to type and remember by the users.
Keep it Simple
The name you choose should be simple enough so that it can be easily remember by the users.
Keep it Meaningful
The name should have some meaning or purpose so that your website will look professional in the minds of users.
Avoid Hyphens and Dashes
Do not use hyphens and dashes in your domain name. They can make your domain name look spammy and unprofessional. By using dashes some search engine might think that you are using keyword stuffing tactics in your domain name and can penalize you.
Avoid Numbers
For a professional looking domain try to avoid numbers in your domain name. They do not create a good impression in the minds of users.
Keep it Interesting
The domain should be interesting enough to attract visitors on your website or blog. A catchy and interesting domain can attract a lot of visitors when they see your domain name on search results or anywhere on the internet.
Avoid Copyright Infringement
You should not include anything in your domain name that can lead to copyright infringement.
Which Domain Extension is for you?
Next comes the domain extension which also plays a very important role for your website. Domain extension comes after your domain name followed by a dot (.) and there are pre defined domain extensions available for different types of purposes. The most common and oldest domain extension is .com which is used by majority of websites. It is a generic domain extension and can be used by any type of website or blog. But now you can find and use various types of domain extensions for specific purposes than can give benefit in your website rankings and in search results.
Popular Domain Extensions
Here are some popular domain extensions that are widely used.
.com – commercial
.org – organization
.net – network
.info – information
.edu – education
Country Specific Domain Extensions
Here are some country specific domain extensions. If you are developing a website or blog whose traffic is targeted towards a particular country then it is advisable to choose a country specific domain extension for getting benefits in gaining traffic from the particular country through search engines.
.us – USA
.uk – UK (United Kingdom)
.in – India
.ru – Russia
.fr – France
And so on….
How to check Domain name Availability
You can check domain availability on various websites such as checkdomain.com and domain buying / registration websites.
Places to Buy Domains
Here are some popular and good websites to buy domain for your blog or website.