Find huge content for your Mobile Phone on Zedge.net
Zedge.net is a website where you can find tons of content for your mobile phone. The site has huge collection of Ringtones, Wallpapers, Text Messages, Apps and much more. All of the content on this site are of great quality and are updated daily. It has a huge community base and registered users can upload their content on the site. You can register for Free and can download content for your Phone for free. Almost all the phone manufacturers and their models are listed on the site. You can choose your manufacturer and model of the phone, after choosing your model, only the content gets filtered on the basis of your phone so you don't have to worry about the compatibility issues.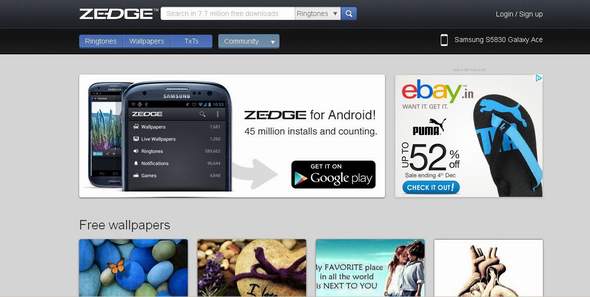 Zedge.net was started in Norway in 2003 and has offices in New York and Trondheim, Norway. The Zedge brand and services are owned by Zedge Holdings Inc. They say that about 45 million users visit their site and their users download 7 million items per day. They have about 7.7 million available items in their content library which is huge. Also they do have their own Android app which you can download from here.