EVGA Precision X – "The Ultimate GeForce Controller"
EVGA Precision X is the next generation of GPU overclocking software. This is easily the best overclocking software for nvidia GeForce Chipsets. The new version of this software is now being called EVGA Precision X and is labeled as "The Ultimate GeForce Controller" by the comapny. The user interface is now improved greatly and you can get almost all the information on the main screen of the software. This software will allow you fine tune your EVGA or any other nvidia chipset based graphics card. By using this software you can tweak GPU Clock speed, GPU Voltage, Memory Clock speed and Fan speed. By tweaking and adjusting these parameters you can set you card to achieve maximum performance in games. You can also monitor the load and temperature of the vital components of your card by using this program.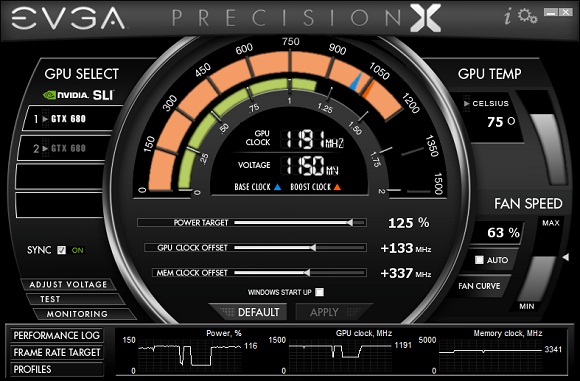 EVGA Precision X supports GeForce 600, 500, 400 or 200 series graphics card and requires Microsoft Windows 7 / Vista / XP to run. I would recommend every nvidia card owner to download and use this great software.
EVGA Precision X Features
GPU and Memory Frequency/Clock Offset
Power Target Control (GeForce GTX 680)
Frame Rate Target Control
GPU Voltage Adjustment
Fan Control/Fan Curve
Profiling system allowing up to 10 profiles with optional hotkey
Robust monitoring allowing ingame, system tray, and/or Logitech LCD monitoring
In game screenshot hotkey, supports BMP, PNG and JPG formats
Multi-language support: English, Dutch, French, Japanese, Korean, Polish, Russian