Easiest Way to Repair, Format & Fix Corrupted Pen Drive
If your pendrive or usb flash drive gets corrupted because of viruses, corruption of file system or any other reason and you are not able to format it in Windows then do not worry. There is a very effective tool called HP USB Disk Storage Format Tool for handling these kinds of issues.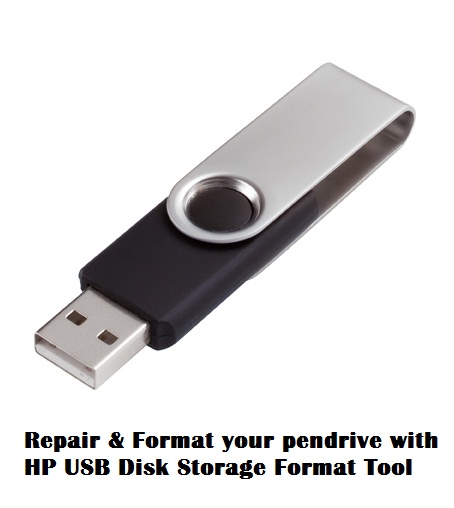 HP USB Disk Storage Format Tool is a tiny freeware standalone utility used for formatting your USB Disk drives. It was designed for HP Drive Key or DiskOnKey USB 2.0 devices but can work with any usb based flash storage devices.
When to Use HP USB Disk Storage Format Tool?
1. When your pendrive is infected with viruses and Windows is unable to format it.
2. When your pendrive file system gets corrupted and you cannot open your drive.
3. You do not want to format your pendrive with Windows built-in tool and need more power over formatting options.
In all cases whether you have corrupted pendrive or not you should always use this tool to format all of your pendrives for better formatting. It can also format your External USB Hard Disk or any other USB Storage Drives.
How to Format your Pen Drive Using HP USB Disk Storage Format Tool
1. Download HP USB Disk Storage Format Tool from here
2. Plug in your corrupted Pen drive
3. Launch the Tool from Desktop by double clicking it.
4. A window will open and here you can select your pendrive (if you have plugged-in more than one pendrive), choose file system for format (FAT32, NTFS) and format options that includes
a. Quick Format – For quick / faster formatting
b. Enables Compression – To save space on your pen drive
c. Create a Dos startup disk – for creating bootable usb disk
5. Do not check/tick any of the options for proper or full formatting of your pendrive. Click on start and your formatting will be done.
6. After that check your pendrive by copying files to it and again from pendrive to your computer. If you pendrive is still not working then you need to get a new one.
Download HP USB Disk Storage Format Tool