Convert your Favorite Videos to any Format by Freemake Video Converter
Converting videos from one format to another is always a heck of a task as there are not many reliable free softwares available to do this job efficiently, but Freemake Video Converter lets you to forget all these problems and the good thing is that this software is available for free.
Freemake Video Converter is video conversion software or program that lets you to convert any video format to another one. It is great alternative to the many professional paid softwares available on the internet. It lets you convert any video to AVI, MP4, WMV, MKV, MPEG, 3GP, DVD, MP3, iPod, iPhone, PSP, Android, rip & burn DVD, convert to Flash FLV & SWF, burn Blu-ray, and also upload to YouTube for viewers online. Freemake Video Converter supports more than 200 input file formats and it also allows you to convert online videos directly to the desired format from more than fifty websites. You can rip online videos through direct URL copypaste from YouTube, Facebook, Vimeo, Dailymotion, LiveLeak and more and converts them to any format or device available.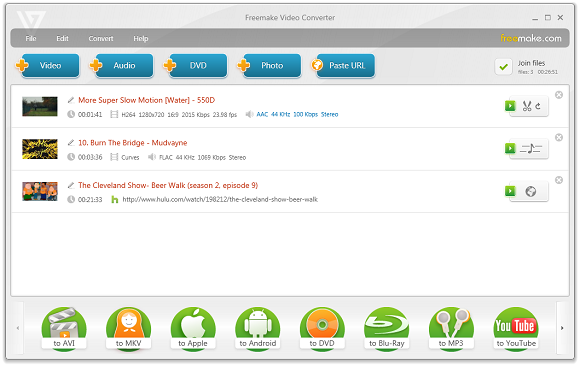 Output formats available are AVI, WMV, MP4, MPEG, MKV, FLV, SWF, 3GP. You can convert video to Flash and embed it directly to your web page. Also you can create HTML5 video (Ogg, WebM, H.264) for modern web browsers. The software allows video to be optimized for Sony, Apple and Android Devices. Some of them are iPod Classic, iPod Touch, iPod Nano, iPod 5G, iPhone, iPad, Sony PSP, PS2, PS3, BlackBerry, Samsung, Nokia, Xbox, Apple TV and many more.
Freemake is the only free video converter that features integrated both CUDA and DXVA technologies for the faster video conversion and it consumes less CPU usage. The software automatically detects the optimal conversion parameters and switches on/off CUDA and DXVA for better conversion results. You can convert your movies to Blu-ray video format and burn high-quality Blue-ray Discs for free. Unlike other softwares it doesn't have a two-hour limit and can burn DVD video up to 20h to a Standard DVD or 40h to DVD-DL.
One most important feature this program has is to cut video parts from your video file. You can easily Flip or rotate video, Join several videos into one file, add transitions between parts. It also lets you to fit the output file size to any limit (e.g. 700 Mb, 1.4 Gb, 4.7 Gb), adjust to aspect ratio: add black bars, stretch, zoom, auto-adjust. Other features include Subtitle support, advance preset editor, upload photos and MP3 to youtube, make slideshows and visualizations. Freemake Video Converter requires Windows XP / Vista / Windows7 / XP64 / Vista64 / Windows7 64 to run and is available in multiple languages. You can download this program from here.