Change attributes of Files and Folders in bulk using Attribute Changer
Attribute Changer is a handy utility to change the attributes of files, folders and drives in windows. Basically it installs as a windows explorer add-on and you can right click the files, folders or even drives and change its attributes according to your needs. The most remarkable thing about this software is that it has got filters where you can change attributes of files or folders in bulk based on their creation/modified time or on their size. It comes with a well documented user guide that has many real life examples and hints so that you can learn to use this software.
Attribute Changer is available as freeware and it supports Windows XP / Vista / Windows7 / XP64 / Vista64 / Windows7 64 / Windows8 / Windows8 64. You can download Attribute Changer from here.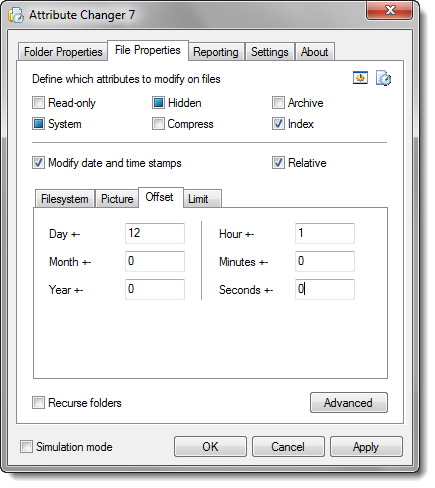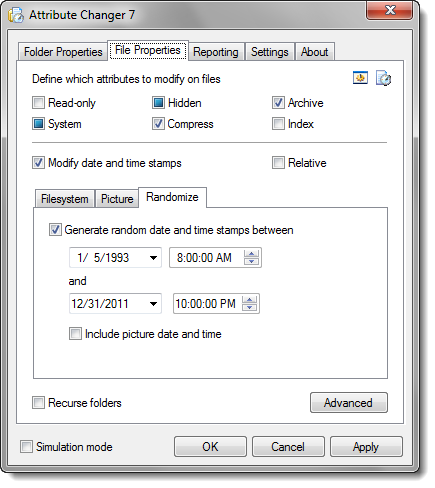 Features
Right-click add-on for Windows Explorer
Supports 32- and 64-bit Windows XP, Vista and 7
Change standard Windows attributes
Modify date and time stamps (Created, Modified, Accessed)
Modify photo date and time stamps (EXIF information)
Synchronize date and time stamps
Partial date and time stamp updates
Relative date and time adjustments
Randomize date and time stamps
Filters to exclude files and folders
Realtime reporting (simple and detailed)
Simulation mode
Complete user manual with tutorials