Bluehost Review – Best Affordable Shared Hosting
Bluehost is one of the best shared Web Hosting Company around. If you are starting your new website and you do not have enough money to invest in a VPS hosting then Bluehost is the best option for you, both in terms of price and performance. Also if you are not satisfied with your current hosting and want a good reliable webhosting to host your website then I would advise you to go for Bluehost. There have huge number of satisfied customers and even then they do not compromise on and quality and performance.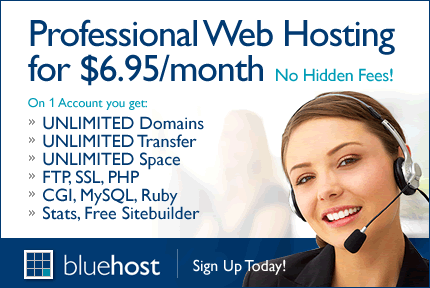 Bluehost started as a shared web hosting company but now they are also providing vps and dedicated servers, that too at a very affordable price. Bluehost has very powerful and optimized servers that make shared hosting looks like a vps hosting. The loading time of your website will be very low as their servers can handle the load pretty easily. You can host WordPress, Drupal, Joomla, phpBB, PrestaShop etc. powered websites on Bluehost without any hitch. Also they can handle large amount of traffic to your website with ease, which is the main drawback of other shared hosting companies. Other shared hosting companies can suspend your hosting account if you heavy traffic driving to your sites. This is what that makes Bluehost stands out of the competition. Now I will talk about the features of Bluehost.
CLICK HERE TO SIGNUP FOR BLUEHOST.COM
Review of Bluehost Webhosting
Features of Bluehost
Unlimited Disk Storage
Unlimited Domain Hosting
Free Drag and Drop Site Builder (New!)
Free Domain Name (*)
Support International Domain Names
POP3/POP3 Secure E-mail Support
IMAP/Secure IMAP E-mail Support
3 Different Webmail (Web Based E-mail) Solutions
Forwarding E-mail Accounts
Unlimited GB of Site Transfer
Add-on Domains
Parked Domains
Subdomains
cPanel Account Control Panel
FTP Access
Web File Manager
Secure Shell (SSH) Access
Server Side Includes
Hotlink Protection
Override .htaccess Support
Log Files
Site Statistics
Customizable Error Pages
Custom Cronjobs
Spam Assasin Protection
Bluehost Plans
Bluehost plans start from as low as $3.95 and you can upgrade it anytime if you want more resources to your website and a dedicated IP address.
Control Panel
Bluehost provides you with the all time popular and one of the best easy to use control panel which is cPanel. You can login in to your cPanel account by typing cpanel after your domain/website name.
Bluehost cPanel Login
www.yourwebsite.com/cpanel
Bluehost email login
www.yourwebsite.com/webmail
Customer Support
Bluehost Customer Support very professional and top notch and you will get response to your queries within an hour or so. Their Support Staff are very friendly and they have proper professional knowledge about their work. Bluehost has 24/7 cutomer support so it does not matter when you contact them.
So don't wait even for a second and CLICK HERE TO SIGNUP FOR BLUEHOST.COM