AMD launches its new APU series processors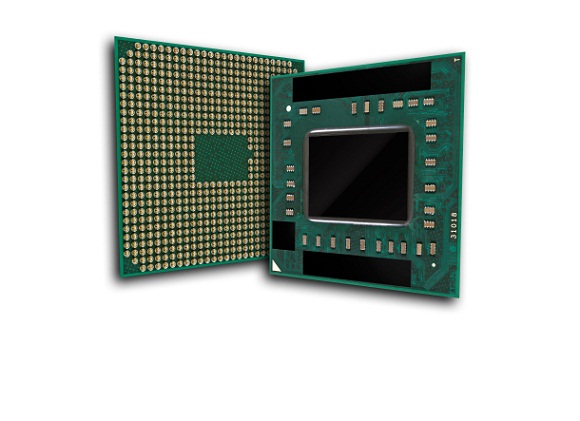 In response to Intel's third generation Core i-series processors (known as Ivy Bridge), AMD has also stepped up and launched their second generation APU series line of processors. AMD has termed their new processors as APU, which means Accelerated Processing Units, because in this chips CPU and discrete level GPU are combined together. These new APU chips are code named as Trinity.
These new laptop processors are named as A4, A6, A8 and A10 and offer double performance over previous generation of AMD APU chips and can offer up to 12 hours of battery life in laptops and netbooks. These new chips will be available in dual core 17 watt and quad core 25 watt and 35 watt versions.
The Graphics Processing Unit in these chips is based on AMD Radeon HD 7000 series graphics cards, and supports Directx 11. When combined with a discrete graphics card, dual graphics mode is activated which can boost power or save battery life when needed by the system. It is similar to nvidia's optimus technology that combines discrete and integrated graphics, and uses them accordingly.
Besides all this, AMD is working with software manufacturers to create video and perfrormance optimization plugins for Google chrome, Firefox, IE 9, VLC media player, photoshop cs6 and other applications. The company said that its APU platform is great for video playback, editing and encoding. Acer, ASUS, HP, Lenovo, Samsung, Sony and Toshiba are some major companies that will use AMD's new APU chips in their upcoming laptops or netbooks.