Airtel Prepaid Online Recharge Failed from airtel.in Solution
Recharging your Prepaid Mobile has become very convenient with the introduction of Online Recharge Services. Now you don't have to go to a mobile recharge shop to recharge your mobile. Now you just have to go to the recharge website, enter your mobile number details, enter recharge amount and make the payment through Debit Card / Credit Card / Netbanking, and bingo your mobile gets recharged with the entered amount.
If you are an Airtel subscriber and uses its official recharge service/webiste to recharge your mobile phone then you must have encountered this problem frequently with the recharge being failing many times without any valid reason, and your amount will also get deducted. The deducted amount will get refunded in 2-3 days to your bank account but it will cause you frustration if your mobile is not getting recharged when you want to. Here the SMS you will get from the number 121 will be like "Your airtel mobile 97XXXXXXXX online recharge txn ID 20XXX of Rs. XXX failed due to some technical reason". The best way that I found to solve this problem is use other better alternative for online recharges and that I have found is Paytm.
Use Paytm to Recharge your Mobile
Paytm is a third party online recharge service for recharging your mobile, DTH and Data Card. Other than recharging it includes other service like Bill Payments (for Mobile, Landline, Data Card, Electricity, Gas) and booking of bus tickets. It has also started its online store which is in its early stages. The customer service of Paytm is also very good.
So when your Airtel Online recharged failed from the Airtel.in (Official Wwebsite), which is lot in my case then I would advise to get your recharge done from Paytm. I have used Paytm many times and my recharge never failed, and it is also easier to do recharge from them. In fact I would recommend getting your mobile recharges done every time through Paytm. The only negative point I think about them is that you have to create an account but it takes only few seconds, otherwise you can also login to Paytm using your Facebook and Google Account.
Paytm website: https://paytm.com/
Reload.in (Hassle Free Online Recharge)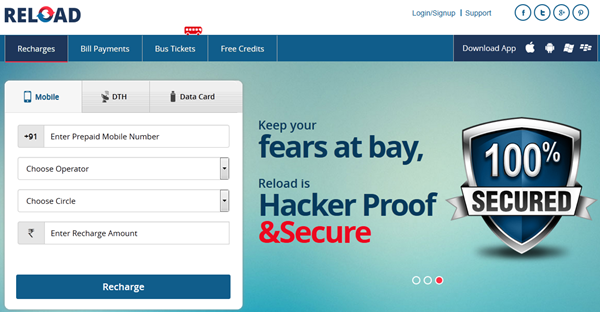 Nowadays some people are facing problems in Paytm also, so if you are one of them then another very good and reliable site for online recharge is Reload.in. The website is fast, responsive and has easy and simple user interface. Their service is also top notch with very good customer support to resolve your queries and problems.
Reload.in website: https://www.reload.in/