Windows 8 coming in three different Versions
Microsoft has revealed Windows 8 editions which will be available in three versions. To make things simpler and easier for customers Microsoft has decided to go for only three versions of Windows 8. Two of these versions are for PCs having x86 processors (both 32 bit and 64 bit). These two versions will be called Windows 8 and Windows 8 Pro. The third version is called Windows RT and is made only for ARM devices.
Microsoft says that it kept the Windows 8 very flexible, which means that you can use touch-screen or keyboard and mouse and can make switch anytime between them. Also Windows 8 can be used on x86/64 or a WOA PC. The new OS is very fast, responsive and its fluid design makes it perfect for wide range of hardware. You can download apps from windows store and these apps can be made to work together, so you can share photos, maps, contact, links etc.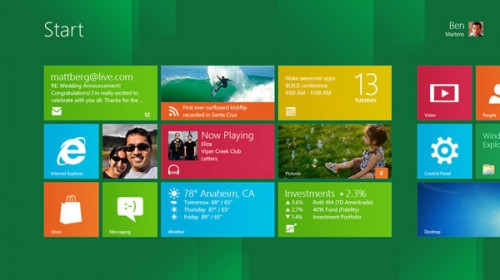 Windows 8 will be the first choice for most of the customers. It includes all the above features plus an updated windows explorer, task manager, better multi-monitor support and ability to switch languages on the fly.
Windows 8 Pro is more advanced and is suitable for tech enthusiast and business/technical professionals or for anyone who wants to use PC in business environment. It will have all the features of Windows 8 plus features for encryption, utilization, PC management and domain connectivity. Windows Media Center is available as separate add-on for Windows 8 Pro.
Windows RT also known as WOA (Windows on ARM) is the newest member of Windows 8 family that will power ARM based devices that includes tablets and laptops or netbooks. The use of ARM processor will make these small devices more compact, lighter in weight and with increased battery life. Touch optimized versions of the Microsoft word, excel, powerpoint and one note will be available on Windows RT.
An extra version called Windows 8 enterprise edition will be available only for enterprise customers with software assurance agreements. It will include all the features of Windows 8 Pro plus features for IT organization that enable PC management and deployment, advanced security, virtualization, new mobility scenarios and much more.
No Pricing details have been disclosed by Microsoft on Windows 8 versions so far, but we can expect some more information on Windows 8 in upcoming months.
Related Posts