Prevent your Operating System from getting corrupted by using Sandboxie
Are you afraid to install any new software, just to try out its functionality and working? You must be worried about its authenticity as it may contain spyware and malware. Also it is very difficult to uninstall this kind of unsolicited software because they make some severe changes and modifications to the system or operating system files. The solution to this problem is to run these kinds of rogue softwares or programs in an isolated environment, which is also known as virtualization. Most of the virtualization softwares are very expensive and also they require high system specs, but there is software called Sandboxie that is a Freeware and does the job easily.
Sandboxie is a software that runs your programs in an isolated space which prevents them from making permanent changes to other programs and data in your computer. It supports Windows 2000 / XP / 2003 / Vista / Windows7 / Vista64 / Windows7 64.  The current version of this software is Sandboxie 3.70 and is available multiple languages, which includes English, Albanian, Arabic, Bulgarian, Chinese (Simplified and Traditional), Czech, Danish, Dutch, Estonian, Finnish, French, German, Greek, Hebrew, Hungarian, Indonesian, Italian, Japanese, Korean, Macedonian, Polish, Portuguese (Brasil and Portugal), Russian, Slovak, Spanish, Swedish, Turkish, and Ukrainian. You can download this program from here.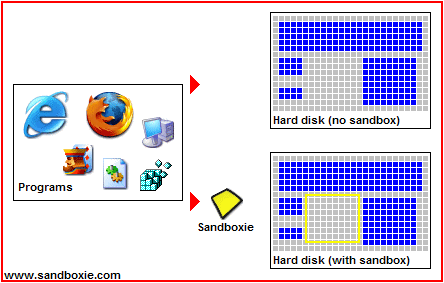 The red arrows indicate changes flowing from a running program into your computer. The box labeled Hard disk (no sandbox) shows changes by a program running normally. The box labeled Hard disk (with sandbox) shows changes by a program running under Sandboxie. This animation illustrates that Sandboxie is able to intercept the changes and isolate them within a sandbox,  which is depicted by a yellow rectangle. It also illustrates that grouping the changes together makes it easy to delete all of them at once.

This is the Sanboxie window where you can view and control all your installed programs.
Benefits of using Sandboxie
Secure Web Browsing: Running your Web browser under the protection of Sandboxie means that all malicious software downloaded by the browser is trapped in the sandbox and can be discarded trivially.
Enhanced Privacy: Browsing history, cookies, and cached temporary files collected while Web browsing stay in the sandbox and don't leak into Windows.
Secure E-mail: Viruses and other malicious software that might be hiding in your email can't break out of the sandbox and can't infect your real system.
Windows Stays Lean: Prevent wear-and-tear in Windows by installing software into an isolated sandbox.
Related Posts