How to find Detailed System Information of your Windows Computer
Sometimes we need to find out the complete specification or system information of our computer. The reasons could be many but the real question is how to do it?. Microsoft Windows do offer an inbuilt System Information utility but the information it provides is very less. But there is an application/utility called SIW – System Information for Windows that gives every minute details of the Hardware or Software you are running. It is developed by Gabriel Topala.
SIW is a standalone application/utility so you don't have to bother installing it. You just have run the application by double clicking it and then it displays the detailed system information in an extremely comprehensible manner. It can also create report file (CSV, HTML, TXT or XML), and is able to run in batch mode (for PC Software and Hardware Inventory, Asset Inventory, Software License Management, Security Audit, Server Configuration Management).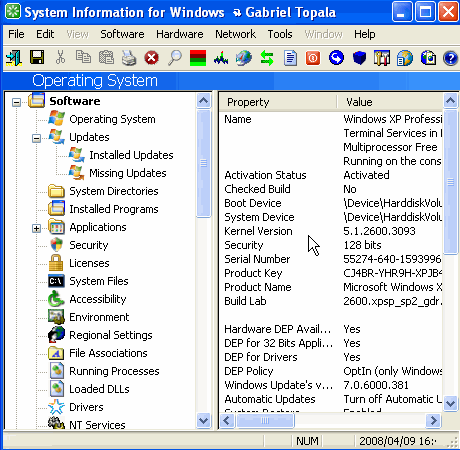 System information provided by SIW is divided into different categories
Software Information: Operating System, Software Licenses (Product Keys / Serial Numbers / CD Key), Installed Software and Hotfixes, Processes, Services, Users, Open Files, System Uptime, Installed Codecs, Passwords Recovery, Server Configuration.
Hardware Information: Motherboard, CPU, Sensors, BIOS, chipset, PCI/AGP, USB and ISA/PnP Devices, Memory, Video Card, Monitor, Disk Drives, CD/DVD Devices, SCSI Devices, S.M.A.R.T., Ports, Printers.
Network Information: Network Cards, Network Shares, currently active Network Connections, Open Ports.
Network Tools: MAC Address Changer, Neighborhood Scan, Ping, Trace, Statistics, Broadband Speed Test
Miscellaneous Tools: Eureka! (Reveal lost passwords hidden behind asterisks), Monitor Test, Shutdown / Restart.
Real-time monitors: CPU, Memory, Page File usage and Network Traffic.
The different client and the server platforms needed to run this utility are -
Client Platform: Windows 8 / Windows 7 / Vista / Windows XP / 2000 / NT4 / Media Center / Tablet PC / WinRE / BartPE / Winternals ERD Commander
Server Platform: Windows 8 / Windows SBS 2011 / Windows Server 2008 (R2) / Windows Server 2003 (R2) / Windows Server 2000 / NT4
Related Posts